15 Infants Have Died After Using A Recalled Sleep Rocker — So The CPSC Put Out A Second Recall
The Consumer Product Safety Commission is reminding parents to discontinue the use of the rockers after the deaths of 4 infants following the initial recall.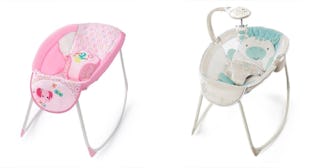 Kids2/Consumer Product Safety Commission
In April 2019, the Consumer Product Safety Commission issued a recall on nearly 700,000 Kids2 Rocking Sleepers, along with a recall on an additional 4.7 million Rock 'n Play Sleepers by Fisher-Price. At the time, 11 infants had died, with the CPSC saying the deaths occurred once the infants rolled from their back to their stomach or side while not strapped in to the rockers, or other unknown circumstances.
Since the recall nearly four years ago, four more infants have died, pushing the CPSC to issue a second recall on the Kids2 products, urging parents to immediate stop use of the sleep rockers. A total of 15 infants have died in the recalled rockers. All models of the Kids2 Rocking Sleepers have been recalled.
The second recall comes nearly eight months after President Biden signed the Safe Sleep For Babies Act into law. The law bans inclined rockers and padded crib bumpers linked to more than 200 reported infant deaths ad makes it illegal to "manufacture, sell, or distribute crib bumpers or inclined sleepers for infants. Specifically, inclined sleepers for infants are those designed for an infant up to one year old and have an inclined sleep surface of greater than 10 degrees."
The American Academy of Pediatrics (AAP) has previously advised against using inclined sleepers and crib bumpers, both of which increase the risk of suffocation during sleep.
Refunds for the Kids2 Rocking Sleepers are available to those who still have the rocker. To contact the Kids2, call 866-869-7954 toll-free from 8 a.m. to 5 p.m. ET Monday through Friday or visit www.kids2.com and click on "Recalls" for more information.