These Lisa Frank Reebok Sneakers Will Make All Your 90s Dreams Come True
by Megan Zander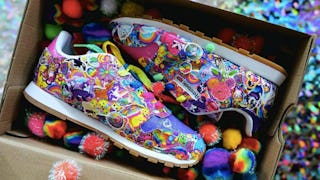 Image via Reebok
Lisa Frank and Reebok teamed up for a sneaker — but there's a catch
If you spent your youth squealing over Lisa Frank folders then you know that 2017 is a pretty glorious time to be alive. The chaotic blend of unicorns, rainbows, and kittens we love has been popping up on pajamas, coloring books, and leggings recently, reminding us of a simpler time. Back when no one barged in on us while we were peeing, demanding our favorite 90s snacks.
The only thing missing has been Lisa Frank shoes — until now. The designer has teamed up with another throw back we all remember and love — Reebok Classic Leathers — to create a 90s girl's fever dream. Behold the Lisa Frank x Reebok Classic Leathers. It's the cutest and most comfortable sneaker you ever owned, covered in Lisa Frank icons.
Do they smell like cotton candy? We bet they do.
RELATED: Best Cotton Candy Machines For Kids Who Love Sugar (AKA All Kids)
Of course there's a catch. Even though we're now old enough to buy all the sweet Reebok and Lisa Frank gear we want without begging our parents for an advance on our allowance, getting our hands on a pair of these isn't as easy as heading to the mall. You can't buy them, you have to win them.
There's only two pairs of these magical shoes, one adult size and one child size. To snag them you have have to answer a question: What's your favorite trend from your back to school days? To submit a response, tweet your answer @ReebokClassics & @LisaFrank.
These mobile time capsules are even signed by Lisa Frank herself.
Why did rainbow shoelaces ever go out of style?
Best of luck to everyone. But remember, if you're not the lucky winner who gets to strut around in these, at least we still have the Steve Madden slinky to comfort us.
This article was originally published on