We Found *The* Perfect Lip Gloss & It's 50% Off Right Now
by Amanda Davis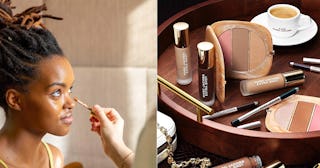 Marc Jacobs Beauty
Never did I think I would say this, but Marc Jacobs Beauty is having a major sale on all of their best-selling beauty and skincare products! Most people don't have piles of the beauty brand in their makeup drawer because you know, money — but it is some of the best out there. And now is as good a time as any to try out (and stock up on) the beauty brand that so many make-up enthusiasts and beauty gurus obsess over.
Right now almost everything Marc Jacobs Beauty is 50% off! And that goes for what's sold at Sephora too. That includes skincare (like the beloved Youthquake Hydra-full Retexturizing Gel Crème Moisturizer), lipsticks and glosses, foundations and concealers — all of it. The biggest task with a sale this huge is getting to your favorite products before they sell out. And all of it is selling out fast on both sites, so make sure to stock up and stock up NOW on your favorite Marc Jacobs Beauty products while they're still available!
Is Marc Jacobs Beauty being discontinued?
That is the buzz around the beauty world, unfortunately. The cruelty-free beauty brand is said to soon be discontinued from Sephora, but many question why the Marc Jacobs Beauty website has more than half of its inventory on sale as well. Only time will tell, but for now it's time to splurge!
This article was originally published on