22 Gorgeous (Yet Comfortable) Baby Bump-Friendly Wedding Guest Dresses
by Megan Hungerford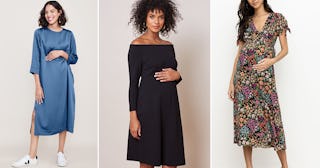 Hatch/Isabella Oliver/Yumi Kim
Feel like the belle, not the bump, of the ball in the best maternity wedding guest dresses. Weddings are a great excuse to get out of those sweats and dress to impress for an evening out. Which means, you need the perfect dress that will keep you comfortably celebrating the happy couple. (And, giving you a chance to show off your maternity moves on the dance floor.) But most importantly, you will look and feel like the beautiful mama-to-be that you are. No fairy godmother needed here to make your style dreams come true (sorry Cinderella). We've got the best wedding guest dresses for every dress code from princess-approved cocktail dresses to tropical off the shoulder maxis. Heck we even included some sleek maternity jumpsuits. Because in our book, a jumpsuit can be just as formal as a dress.
Now, something to keep in mind while maternity dress shopping — one day this baby is coming out! (Yes, a terrifying yet joyful reality.) Which means you want to invest in a versatile maternity dress you can wear more than once and that will get you through all 4 trimesters of your pregnancy (yes we said 4th trimester — the one just after the baby arrives). A classic maternity maxi dress can go from casual to cocktail with just a simple shoe and accessory upgrade. And really that's true for most dresses. Don't underestimate the power of the right shoes, accessories, and hairstyle to transform any dress regardless if you've got a bun in the oven or not.
As you prolly know, hitting a wedding with a growing bump isn't the time to trade style for function. Because pregnancy is already uncomfortable enough, we've found soft stylishly flattering maternity dresses that accommodates supportive lingerie and will keep you cool all wedding long. Plus, many of the dresses on our list will grow and shrink with your changing body, taking you through post-pregnancy nursing if you need it to. Regardless if you are attending a casual backyard ceremony or a black tie reception, we've got the best maternity wedding guest dresses to make you shine. Get ready to start taking compliments!
Best Maternity Wedding Guest Dresses
Now that you are dressed to impress with the best maternity wedding guest dress, let's make sure that all your fashion needs are met pre, post, and during pregnancy!