Is Miss Erin The Next Big Thing In Toddler Entertainment?
Time for dance class! (And a little bit of magic.)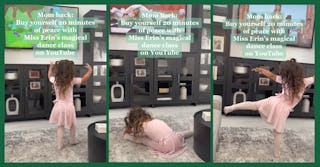 @anacloward/TikTok
Dance classes are expensive — even before you factor in special shoes and outfits. Add in the time it takes to get ready and then get there and back, and it's a big commitment... especially for parents of toddlers, whose interests often waver daily. Luckily, there's a new-ish face on YouTube ready to teach your toddler the dance class basics, and she does it all for free.
Led by an instructor named Miss Erin, each YouTube-based "dance class" features sweet songs, adorable dance moves, and a mix of other on-screen attractions to keep your little one's attention. With animations and puppet-led stretching, Miss Erin's Magical Dance Class is next-level cute, and, as one mom on TikTok pointed out, it's the perfect answer when you need 20 minutes of quiet.
"Mom hack: Buy yourself 20 minutes of peace with Miss Erin's Magical Dance Class on YouTube," mom Ana Cloward wrote over a video of her bouncing and squealing toddler taking part in class right from the family's home.
Other moms weighed in on Cloward's video with equally glowing reviews.
"Update: My child is obsessed, this is a solid suggestion," gushed one commenter.
"Thank you so much for sharing this," wrote another. "Currently has my rowdy toddler invested and following along."
"My three-year-old is obsessed. Except we also have to participate. Never saw my husband look more graceful," one mom hilariously shared.
Aside from being just absolutely adorable, Miss Erin offers something many other YouTube-famous kids programs don't: Encouragement to move.
But who is Miss Erin, and where'd her magical dance classes come from? The class was originally posted three years ago (which you might remember was during the height of the pandemic) on a channel called Star Dance Center. Based out of California, Star Dance Center is a physical dance studio owned by none other than Miss Erin (Sanfelippo). Miss Erin is no newbie to dance or media. According to her bio on the dance center's website, she's starred in multiple commercials and danced with many big names, including Adam Lambert.
The class is so much more than just a new grown-up dancing on-screen, though. There are sweet, soft-spoken original songs. And after an introduction, the 19-minute video actually starts out in an actual dance studio with Miss Erin and her students. It truly gives the feel of attending a real-life dance class — without dropping a ton of money for something your kid might hate.
If your memories of dance class revolve around a stern-faced, super strict teacher and no room to really get your wiggles out, you'll be relieved to find Miss Erin's class is nothing like that. She's made up her own special magic trick with her students to start class. Even in the intro, you can see kids dancing to the beat of their own drum. While the class can certainly be used as a start to getting a child used to attending dance class and following directions, it's also just a great way to let your kid have screen time while still encouraging them to expend some energy.
Dance class may not be for everyone. But Miss Erin's Magical Dance Class is definitely for anyone with a wiggly toddler in need of 20 minutes of entertainment. Now... if we could just get a Miss Erin and Ms. Rachel collab, preschoolers everywhere would really be living their best life.