A Fed-Up Mom Vents In Viral TikTok After Forgetting To Pack Her Own Clothes For Family Trip
"Moms always suffer," she wrote.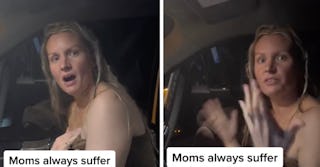 TikTok / herky_jerk_ranch
Moms often have the weight of the world on their shoulders. In many instances, they keep track of the family's busy schedule, make sure the household chores get done, do bath and bedtimes, plan birthdays, and are just all-around super humans who put everyone before themselves. It's exhausting and frustrating at times.
One mom on TikTok is going viral after venting about how sometimes moms just end up getting the shaft — because they are expected to take care of everyone, including themselves.
As her husband films her (with glee), this fed up mom launches into a totally justified vent session about how she forgot to pack enough clothing for herself because she was busy thinking about what everyone else in the family needed.
"Moms always suffer," Ayala wrote in text on the viral TikTok video that captured an exchange with her husband, Efrain.
On what appears to be a camping trip, Amanda Ayala and her family wrap up their time at a shower house. While her daughters, ages 9 and 12, and her husband (of course) come back clean and dressed, Ayala walks out from the shower house with drenched hair, wrapped in just a towel.
"Hey! Why everybody else have clothes on and you're still in your towel?" he asks his wife in a much-too-cheery tone.
"Because I'm the mom," Ayala replies breathlessly. "And I get everybody else's s— together and not my own. So I come to the shower house with nothing. So here I am."
"I had a super peaceful shower," her husband replies. "It was nice."
See, this is the point in the video where I would simply lose my mind, kick him out of the car, and hope he finds his way back to the campsite on his own.
However, Ayala takes the high road and calmly says, "Take me home."
"I hope they appreciate all i do. Lol," she captioned the video.
The video — which has over 3.5 million views and over 300k likes — resonated with so many other women who feel beaten down from the emotional labor of being "the mom."
One user wrote, "I feel her!! no one ever worries about mama but she got to worry about everyone else"
Another commented on the mental load that moms take on, especially when it comes to planning a family vacation. "Man I feel this… I get everything cleaned and packed/organized for camping and hubby drives the car 😞," she wrote.
One user echoed, "Oh man. I feel this in my soul. A 'family' vacation is literally not a vacation for mom lol."
Several commenters got on Ayala's husband for making a joke of his wife's obvious discomfort.
"do more for her :/" one user wrote in reference to Efrain's obvious oversight in helping his wife.
Another wrote, "And when she leaves, he won't have the faintest idea as to why."
Ayala told TODAY.com that while Efrain took a lot of heat for recording his wife's vulnerable moment, he does carry his weight in the marriage.
"We don't divide household labor into a man's or woman's job," she said. "He's that husband who is like, 'Babe, I'm probably not going to see it staring at me. But if you leave me a list, I'll get it done."
"(The video) It doesn't make him a bad person," she added. "We're just showing you that this is real life."
Though she insists that her husband helps with his fair share, Ayala recognizes just how much moms take on in order to make the ship run.
"The effort it takes a mom to pull a trip like that off — that's a lot of work," she said.
Maybe this moment captured on tape can open up a few eyes about what moms take on every day (and especially on trips and outings). Or, at the very least, it can make other moms feel less alone.