A Mom's Hilarious Review Of Her Dad Watching Her Son Is Going Viral
"Don't let your dad babysit," she jokingly captioned the clip.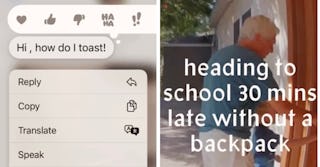 TikTok / @almostmakesperfect
There was a parenting meme going around recently that said, "The best parenting hack is living close to grandparents."
In many cases, this is undeniably true. Without the help of my mom and dad, I don't even know how my husband and I would both work and care for our daughter.
One of the perks (usually) is that grandparents are free babysitters, but many parents, it's important to note that nothing is really free — and that having grandparent babysit, even for free, comes with its own costs.
In a now-viral TikTok, user @almostmakesperfect chronicled the text messages, security camera footage, and hilarious questions her dad asked while watching her son as she and her husband were on their "babymoon."
"How to have a relaxing babymoon," she wrote in text over a video clip of her and her husband on the beach. "... don't ask your dad to babysit."
What follows is a hilarious string of text exchanges and photos between this mom and her dad, as he works to figure out how to use the toaster, find food in the fridge, and store leftover pizza.
The first instance of grandpa's mishaps begins with a still from what appears to be security camera footage of grandpa and grandson standing at the front door on a beautiful, sunny day.
Mom writes, "heading to school 30 mins late without a backpack."
Whoops! Okay, I think we've all forgotten our kids backpack or lunch before. Let's give Grandpa a pass here.
He then texts his daughter about her toaster settings.
"Hi, how do I toast!" the text message reads, seemingly with urgency.
This toast must have been a dire situation for Grandpa as he then sends a picture of said toaster.
She replies, guiding him to the correct setting: "The one that looks like bread, all the way to the left."
Completely ignoring her advice that he asked for, he writes back, "One that looks like pizza worked."
He then asks her where certain foods are in the fridge, which are more than likely right in front of his face (Is this grandpa actually my husband?).
After sending her a photo of a half eaten pizza, he asks what he should do with the leftovers.
"Yes, you should refrigerate leftover pizza," she texts back.
Does he know about Google? Or common sense?
Like most parents who are away from their kids for an extended period of time, she then asks her dad to send some photos of her son.
His response? "Why? You know what he looks like."
While some may think this is just a lazy, boomer grandpa move, it could also be dad's code for "stop worrying about us and enjoy your time away!"
Mom then asks someone else who is helping watch her son to take a picture of her dad.
"Is he just sitting on his phone?" she asks in a text.
The photo she gets back encapsulates the absolute hilarity of the entire video compilation, and probably grandpa's own stress of watching his grandson for a week personified.
She receives back a photo of her dad taking a swig from a beer bottle while her son seemingly plays on a tablet nearby.
The jokes write themselves here, people.
This mom's comment section was flooded with others who had stories from times when they left their parents in charge of their kids, noting how, sometimes, grandpas can be pretty clueless.
"I asked my FIL for a pic of my baby so he sent me a pic that I sent him of her last week 💀," one user wrote.
"My 7 yo told my dad we leave him alone all the time so dad left him alone and went to a 3 hr meeting," another commented.
And while, yes, her dad did have a lot of eye-roll worthy questions and comments, the fact that she has him around to help and spend time with his grandson is something worth cherishing.
"This is sweet. Don't be stressed, your kid will remember amazing times with grandpa ♥️," one user wrote.
Another echoed, "Kid had the best week of his life and will remember it forever 😂"