My Kid Won't Let Me Dress Her Anymore & I'm Struggling
She has her own vision... and I'll be honest, it clashes with mine.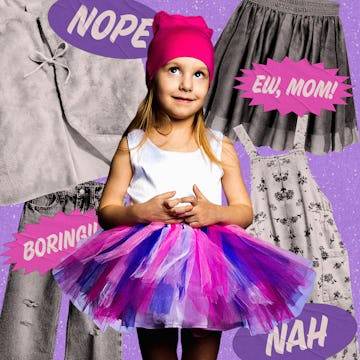 I remember finding out that I was having a girl after two boys. Immediately, I started planning outfits. Sure, I'm a little embarrassed to admit that out loud, and to be clear, I fully support the broad spectrum of gender and the importance of avoiding labels and stereotypes and oppressive gender norms. But I just couldn't help throwing patent leather boots, a fur vest, and a headband with a huge bow on it in an online shopping cart within 24 hours of getting the news.
And for the first year or two, she was my muse. As long as it fit and she seemed comfortable, I could dress her however I liked. So it was me in my overly worn, likely unwashed leggings and a baggy sweatshirt and her living out all of my fashion fantasies daily. Until that is, she started to grow up and have big opinions of her own.
So here we are a month after her sixth birthday, and I have to tell ya — sometimes our taste in fashion is worlds apart. And relinquishing control of her wardrobe has not been easy.
Take last week when I tried to lay out her clothes the night before — light-washed boyfriend jeans paired with a nude-and-white-checkered tee and oversized cardigan. She gave it a nod as I put it out, which led me to assume she approved. Well, she marched down the stairs the following day in a pair of tie-dye yoga pants, a white cami, and a floor-length silver-sequined duster. I don't even know where that duster came from; I think it was a costume.
"Oh! Wow! I love it," I lied. "You didn't like the outfit laid out on the floor?"
"No, Mom. It was boring. This slays." Yes, she actually said that.
And honestly, that's how most mornings are going. I casually try to steer her in one fashion direction, and she sprints in another. Sometimes she'll even ask me which option I like, while holding up two, and then throw on whatever I don't choose while flashing me a coy smile.
So maybe it's about more than just the fashion. I know she's very passionate about self-expression and has strong fashion preferences. But I also think as the third kid, she loves to exert her independence and feel autonomous. And honestly, I respect it.
But still, it's not easy for me. Thankfully, she indulges in some of my fashion fantasies but it's also a lot of wildly clashing neons, unicorns, and princesses thrown into the mix too. Last week, I actually clenched my fists and began a deep-breathing technique when she rolled down the stairs in a black Boston Bruins dress with a bright yellow tulle skirt and a pair of blue and pink fur-lined crocs. I appreciate the hometown Boston spirit, but girl, I almost didn't have enough patience for that one.
But I guess this is what parenting is all about, right? Letting these little people fly and exert a little independence as they grow. I am certainly clinging on for dear life. Soon she will be making much bigger choices than the day's outfit without me. My job is to celebrate her confidence and express my pride in her strong decision making skills — even when it's bright yellow tulle and fur crocs. Wish me luck.
Samm is an ex-lawyer and mom of four who swears a lot. Find her on Instagram @sammbdavidson.