My Kids' SOs Are Always Welcome In My House. Here's Why.
Just because something won't last forever doesn't mean it's unimportant.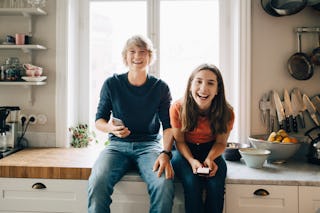 Maskot/Maskot/Getty Images
Currently, I've got two teens who are in relationships. Their partners come over to our house a lot, and I've loved getting to know them. I make it a solid point always to let my kids know I am here for them by constantly asking them how they're feeling about their relationships, keeping an open dialogue around sex, and reminding them their friends or partners are always welcome.
It's to remind them that another person should enhance their lives, not make them harder. I also tell them to stay true to themselves and never depend on others for happiness. It's important to me that they come to me first whenever they have questions about sex and that will only happen if they feel like I am approachable.
Growing up in the '80s and '90s, it felt like my parents never cared if I was in love, heartbroken, or wanted to discuss relationships with them. They were abrupt and short with me on the topic, and it felt like it wasn't a priority for them at all. And so I went through a lot of things and feelings alone. When I had my heart broken in my junior year of high school, my mother was annoyed I'd called her at work to talk about such nonsense. That night when she got home, all she said was, "You'll get over it."
I knew I wanted to break this cycle when I had kids. Many times in my childhood, I felt insignificant regarding friendships, boyfriends, or difficult situations because I was just a kid to my parents. I never wanted my kids to feel that way about any aspect of their lives, especially their relationships.
Admittedly, since they're teenagers, the chances of their relationships lasting longer than a few months are not great. Just because something won't last forever doesn't mean it's unimportant. Dating when you're a teenager is a learning experience that will shape many of your adult relationships to come. I want to try to get to know the people in their lives.
I have refused to put an age limit on when my kids are allowed to date. I want them to know they can bring anyone home or have someone join our family. Yes, it will probably change many times over the years. But, if I waited until they were grown and gone to welcome their partners — because I think those relationships are more serious — that would be too late.
This Sunday, my daughter's boyfriend is coming over for dinner. A part of me wants alone time with my children, but my daughter will be happier and more engaged because he's here. I'd rather have them all under my roof on a Sunday afternoon.
Our kids are going to have relationships outside our family. Times have changed since I was a kid, and I'm ready to break the cycle and let them know their relationships are significant. It's up to us as parents to make them feel seen and heard. The way I look at it, my kids' partners are just more people I get to love.
Diana Park is a writer who finds solitude in a good book, the ocean, and eating fast food with her kids.