A Mom Sent Her Kid's School Counselor The Most Spiteful End-Of-School Gift
The internet is rallying around a mom's stunning act of passive aggression against the "orange lady."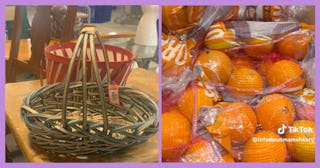 TikTok/@infamousmamahenry
There are the teachers, staff, and administrators at your kids' schools that parents could not be more grateful for — the people who go the extra mile for the children they help, despite having some of the hardest jobs in the world. And then sometimes there are adults working at school who can make your kid's life a complete and utter nightmare for no reason.
This story is about the second type of school employee — and what you should get them for the perfect end-of-year appreciation gift. On TikTok, a mom named Erika — who goes by @infamousmamahenry on the platform — shared the completely passive-aggressive and petty gift she got for a behavioral specialist at school who was making her daughter's year miserable. And it's going viral for good reason.
"Welcome, and please join me on the most petty, passive aggressive thing I have ever done in my entire life," Erika opens the epic video.
She goes on to explain that on the first day of her daughter's sixth grade year, a new adult in the lunch room berated her daughter for getting up out of her seat without permission to throw away an orange peel. The woman took the peel out of the trash, put it back in her daughter's hand, and sent her back to her seat. It was the first incident in what the mom describes as a year-long campaign of undeserved harassment.
Over the year, the mom found out that the woman was a new behavioral specialist in the building, a type of school counselor who had a target on her daughter and friends from the beginning.
Now that the year is over and her daughter is moving on to middle school, the mom took advantage of the fact that she would never interact with the staff member again.
"Eventually," she said, "I get sick of it and I decide, 'How can I thank her for her amazing abilities and everything she has poured into my child this year?'"
The video finds Erika first walking into a thrift shop and picking out a cute wicker basket and then going to her local Aldi grocery store to pick up some various types of oranges. Finally, viewers see her writing a thank you note. At the same time, she's telling her epic tale. At the perfect moment, she reveals that she's putting together an orange fruit basket for the "orange lady" at school. It's wrapped in cellophane and tied with a fancy bow.
"The last time we went into the building and grabbed my kid, we walked it in and placed it on the table — and we just told her tank you. She actually thought it was going to be a nice gift, but when she realized what was happening, it was great."
"I really hope she enjoys the efforts that were put into making this beautiful fruit basket," she wrote in the caption of the video. "You know how people say things were made with love? This was made with pure spite. Best of luck to you orange lady, I hope I made you feel as special as you made my child feel for the last 9 months."
Down in the comments, most parents were thrilled with this entire endeavor and voiced support for this mom's single moment of targeted pettiness. And some had some ideas on how she could have been even more petty.
"I love this! You're not as petty as me though, I would've used a little trash can as a basket so she'd have to pull them out of there," one absolutely savage person wrote.
"Love this! I would have wrote "Orange you glad you picked on my kid," another suggested.
"I would've filled the basket with orange peels," another said.
A few behavioral specialists also sounded off in support, too.
"As an elementary behavior therapist… this makes me so sad ): so sorry you had to deal with this," one wrote.
"As a former behavior specialist, she's ridiculous. You're amazing," another wrote.
As the video tallied up almost a million views, Erika clarified a few things. Yes, she did report the counselor's behavior to the school and tried to fix the situation during the school year. Yes, other parents reported her as well. Yes, her daughter is in therapy for what happened throughout the year with the counselor.
She also shared another video to explain the woman's reaction upon receiving the oranges, and it is also hilarious.
She also posted another video covering what was written inside the thank you card.
"You made such a difference, and it is so deeply appreciated," reads the generic thank you card copy. And to that, she and her daughter simply signed it and added a smiley face.
Sometimes oranges just speak for themselves.