The Best Travel Toys To Occupy Your Toddler On A Plane (Because Flying With Kids Is Brutal)
We only recommend products we love and that we think you will, too. We may receive a portion of sales from products purchased from this article, which was written by our Commerce team.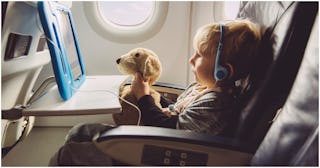 Getty Images
Having the right travel toys for toddlers on planes can be the difference between a happily occupied baby or an hours-long tantrum plus a plane full of new enemies. When you're traveling with your kids, packing travel toys for toddlers might not be the first priority. You tend to pack your travel bag with the necessities first, like snack containers and kid-friendly hand sanitizer. You might be afraid of diaper blowouts or scary turbulence, but travel toys should also be top of mind. After all, the last thing you want to do at 30,000 feet is realize you have absolutely nothing to keep your child entertained. (Sorry but the corny jokes for kids don't always cut it, Mama.)
As an adult, flying with (or near) small children is one of the top three most tedious experiences in life. If the child isn't yours, you can order some snacks, turn on a loud movie, and try to power through it. But as a parent, there is no way around it. It's going to suck, and I find it best to just accept that you will spend the entire flight wondering if you actually died on the way to the airport and the flight is you in actual hell. That way, if the trip just ends up being boring and long, it feels like a win!
In their defense, toddlers are just learning to walk and have super short attention spans, so being confined to a seat for hours at a time is literally torture for them. While no amount of in-flight movies or tiny bags of peanuts can help, the art of distraction can.
How do I keep my 2-year-old entertained on a flight?
The best strategy is to be sympathetic to their growing brains and limited patience and have plenty of toys on hand to keep them as calm and entertained as possible. (And snacks. Don't forget the snacks.) The best plane toys for kids are anything that keeps them quiet, requires little to no cleanup, and can be stashed in a diaper bag or carry-on without taking up too much space (because checking bags is EXPENSIVE and I am CHEAP).
Below, check out the best plane toys for toddlers so y'all can conquer this treacherous journey in peace. Godspeed, my friend. See you on the other side.
Best Travel Toys For Toddlers On A Plane