These Gender-Neutral Clothes Are Letting Kids Just Be Kids
by Phuong Ireland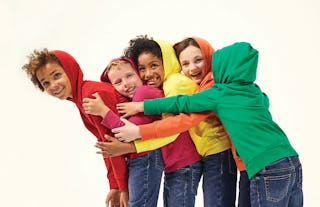 Photo credit: Primary
What do you think of when you hear "boys" clothing? Lots of blues and trucks and dinosaurs and stuff like that, right? And "girls?" Probably pinks, sequins, princesses, etc. And listen, that's totally fine if that's what they're into — but what if they're not? How does that make them (and us, their parents) feel?
I remember when my daughter asked me (pissed off) why blue was only a boys' color. The answer, obviously, was that…I had no idea. "It's not," I told her. "There's no such thing as boys or girls colors. They're just colors. Anyone can love any color they want to." Which sounds great in theory, but try living up to that claim in your local kids clothing store.
For better or worse, clothing plays a major role in the way the world sees our kids, and is such a personal factor in how they see themselves. If you have a boy who likes to wear dresses, or a girl who doesn't, how do you fill their closet with options that let them express themselves, and feel comfortable with who they are? Pigeonholing kids into specific colors and styles puts limits on them. Uh-uh. Nobody puts (my) baby in a corner!
This is one of the reasons we're in love with Primary. They've created an amazing kids clothing line that is gender neutral. You don't shop for boys or girls. In fact, those terms don't even exist on their website. Their goal is to let kids just be kids — without their wardrobe telling them who they should, or shouldn't, be. There are no logos, no slogans, and no preconceived notions of who they are, or should be. (No labels, literally and figuratively.) So they can just be — and express — themselves for whoever they are!
Right now, Scary Mommies can get 20% OFF Primary clothing plus free shipping, for Back to School season and always, with the code SCARYMOMMY20.*
Here are some of our faves:
The Long Sleeve Rainbow Classic Tee
When your favorite color is all the colors.
20% OFF plus free shipping, with the code SCARYMOMMY20.*
The Classic Jean
Super soft and stretchy, with an adjustable elastic waistband inside. I know someone else who could use one of those. (Also available in slim and relaxed fits.)
20% OFF plus free shipping, with the code SCARYMOMMY20.*
The Over-Easy Sweatshirt
The wide, funnel-neck collar means one less thing they'll get their heads stuck in.
20% OFF plus free shipping, with the code SCARYMOMMY20.*
The Lightweight Puffer Vest
The perfect accessory for fall weather, winter layering, and Back-To-The-Future-themed costume parties.
20% OFF plus free shipping, with the code SCARYMOMMY20.*
Primary's quality is great, it's affordable, and it was founded by two moms, so they totally get the struggle. That's why they're offering Scary Mommies a big deal on clothing that looks good and does good. Check out their super colorful, stylish, and ultra-soft tees, dresses, joggers, denim, baby footies, and more, and see why they're one of our absolute faves.
P.S. don't miss their awesome kids rainbow prints!
20% OFF plus free shipping, with the code SCARYMOMMY20.*
*Expires 12/31/2019. New customers only. Max discount of $75.
Our mom experts only recommend picks they really love. We may earn a commission on purchases made through links from our site, but if we love it, we know you'll love it. And we Scary Mommies gotta stick together.
This article was originally published on