45+ Royal Last Names You (Probably) Didn't Know But Should Absolutely Use
Fit for your little prince or princess.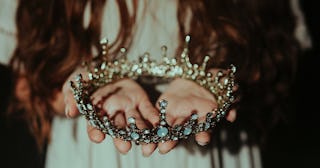 Jared Subia/Unsplash
Americans have long been obsessed with royalty, particularly the British crown. Sure, we might still enjoy the freedom that came from Hercules Mulligan, George Washington, and Lin-Manuel Miranda fighting to free us from British King George and his spittle. (That's how the Revolution went down, right?) That doesn't mean we aren't still enthralled from afar by the princesses, crowns, and sabers. But, did you know that the United Kingdom isn't the only country that still has a royal family? Of course, you did. But do you know who those royal families are and what last names they carry with them to the throne?
Last names are of the utmost importance, we know. Without surnames, we'd have just a bunch of Johns, Sarahs, or Michaels running around, with no way to determine who's who. Historically, many last names were actually based on job titles or family locations. If your last name was "Delaroche," you could come to the conclusion that at some point in your history, your family lived near a rock… probably a large one, even. If your last name was "Tailor" or "Taylor" well, then, your family probably originally served to mend or make clothes. Nowadays, of course, your last name has been passed down through so many generations, that it probably holds no significance to what you do or where you live… but it still helps people identify you. Your perfect combination of first name, middle name, and last name probably does a better job singling you out than simply, "the accountant" or "the writer." To be fair, though, your last name can still give away some details of your heritage and help someone learn a little bit about you. Your last name is your brand… and that's true even for monarchs.
Since plenty of people like to use last names as first names, we thought we'd give you a new list of last names. If you want something beyond the American presidents, these royal last names from across the globe just might be what you're looking for.
Royal Last Names
Bahrain — Al Khalifa
Belgium — Saxe-Coburg and Gotha
Bhutan — Wangchuk
Brunei — Bolkiah
Cambodia — Norodom
Denmark — Glucksburg
Esweatini — Dlamini
Japan — Yamato
Jordan — Hashim
Kuwait — Al Sabah
Lesotho — Moshesh
Liechtenstein — Liechtenstein
Luxembourg — Luxembourg-Nassau
Malaysia — Pahang
Monaco — Grimaldi
Morocco — Alawo
Netherlands — Orange-Nassau
Norway — Glucksburg
Oman — Al Said
Qatar — Al Thani
Saudi Arabia — Al Saud
Spain — Borbon-Anjou
Sweden — Bernadotte
Thailand — Chakri
Tonga — Tupou
United Arab Emirates — Al Nahyan
United Kingdom — Windsor
Famous Last Names of Royalty in Europe
Agnes — Past Prince Reuss of Gera
Alpin — The first king of the Scots surname
Augustus — The surname of Rome's emperor
Balliol — King John Balliol
Barclay — Chamberlain of Scotland
Bergoglio — Pope Francis's last name (He was born Jorge Mario Bergoglio.)
Bernadotte — Swedish royalty in the 1800s
Bourbon — French royal family of House of Bourbon
Bruce — Robert the Bruce
Cambridge — The last name Prince William, the Duke of Cambridge, gives their children
Charlemagne — Charles, the Great King of Franks
Conrad — The surname of the royal house of Conrad, early German king
Cromwell — Oliver Cromwell, ruler of the British Isles
Ferdinand — The last name of the King of the Netherlands, Willem-Alexander Claus George Ferdinand
Howard — The last name of the Duke of Norfolk
Markle — The Duchess of Sussex
Maxwell — After Peter Trevor Maxwell, the baron of England
The British Royal Family
Middleton — Kate Middleton, the Duchess of Cambridge
Mountbatten — The last name used for a British dynasty, starting with Louis Mountbatten, the Earl of Burma
Mountbatten-Windsor — The family name used by some of Queen Elizabeth and Prince Phillip's royal family (including Prince Harry and Meghan Markle's son, Archie)
How Monarchs Work
It's worth noting that not all monarchs or royals become "royal" in the same fashion. While some monarchies are passed down within one family, like in the case of the United Kingdom, there are cases of elected monarchs, as well, like in Malaysia. Not all monarchs "rule," either. Like with Queen Elizabeth II, some monarchs serve more as figureheads. Her role is basically ceremonial. She meets with the Prime Minister and, from time to time, may let her feelings on an issue be known to him/her. However, she makes no real decisions. She's considered a "constitutional monarch." Alternatively, there are autocratic (or absolute) monarchies, in which the monarch makes all decisions. The Sultan of Brunei, Sultan Hasanal Bolkiah, is one example of an absolute monarch.
We don't have it listed here, because it gets a little tricky. But, Vatican City also has a royal ruler. The current (elected) pope is considered the leader of the country. Their type of monarchy is considered an "absolute theocracy." An absolute theocracy is just as it sounds: A populace of people that are ruled by one sovereign leader who is also a religious leader. The current Sovereign of Vatican City is therefore His Holiness Pope Francis. Given the situation, it's odd to consider Pope Francis as "royalty." However, if you're interested, his birth name is Jorge Mario Bergoglio. Before him, the Sovereign of Vatican City was Pope Benedict XVI, whose last name was Ratzinger. (Kinda cool, right?)
What will you do with this information? Depending on where your family is from or where you live now, incorporating a royal last name into your baby's name might be seen as the ultimate show of allegiance. Can you imagine sneaking a Bernadotte or Yamato into your baby's full name?
This article was originally published on