Seattle Public Schools Filed A Lawsuit Against 5 Major Social Media Platforms Alleging They Harm Teens
Officials are investigating whether children and teens are more vulnerable to social media addiction.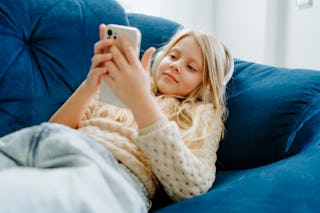 Tatiana Meteleva/Moment/Getty Images
There is no question that social media has had a significant effect on the human race — both good and bad. And recent research (as well as the simplest observations) shows that teens, tweens, and young children could potentially be more affected than adults by social media platforms including YouTube, TikTok, Instagram, and Snapchat.
Now, one public school district is working to hold these major social media companies responsible for some of the alleged affects they have on teenagers.
Seattle Public Schools filed a 91-page lawsuit against the companies behind TikTok, Instagram, Facebook, Snapchat and YouTube in a federal district court.
In the lawsuit, the public school district alleges that students are being recommended harmful content online, thus contributing to a mental health crisis in teens "marked by higher and higher proportions of youth struggling with anxiety, depression, thoughts of self-harm, and suicidal ideation."
They also allege that these social media platforms are purposefully sending out harming messaging and addictive tactics to keep teens scrolling. Seattle Public Schools say that these platforms are designed to keep kids interested — which is particularly dangerous to kids with developing brains and a lack of maturity.
The school district then argues that the companies work to keep users on social media longer in order to sell more ad space. In turn, money becomes the main goal even if it's at the expense of a child's mental health.
The school district, which is the largest in the state of Washington, with nearly 50,000 students, also alleges that some features, such as push notifications, are designed to draw users in, making it hard to ignore, especially kids who have brains still in development.
The lawsuit also references studies that suggest teens who spend a lot of time using screens are more likely to receive diagnoses of depression or anxiety, encounter cyber bullying and not get enough sleep.
According to the lawsuit, social media companies have "exploited the vulnerable brains of youth, hooking tens of millions of students across the country into positive feedback loops of excessive use and abuse."
The lawsuit also references a 2021 investigation by the Wall Street Journal, citing that several teenage girls reported developing eating disorders or relapsing after TikTok promoted extreme diet videos in their personal For You pages.
The school district said students experiencing anxiety, depression, and other mental health issues perform worse in school, are less likely to attend school, more likely to engage in substance use, and have behavioral problems. And while the district feels just in their decision to go forward with the lawsuit, the district continues to take additional steps to train teachers and screen students for mental health symptoms.
However, this is not enough to curb what they call a "mental health crisis."
In the lawsuit, Seattle Public Schools says the number of students who report feeling "so sad or hopeless almost every day for two weeks or more in a row that [they] stopped doing some usual activities" increased by 30% from 2009, when smartphones and social media rose in popularity, to 2019, by which time they'd become part of every day life.
Plus, most school districts do not have enough in-school resources to make screening processes and mental health services effective and . Nationwide, just over half of all public school systems say they can effectively provide mental health services to students in need according to the National Center of Education.
The school district is seeking unspecified monetary damages.
In a statement sent to CNN, Antigone Davis, Meta's global head of safety, said it continues to work to make their social media platforms safer for its young users. She said the platforms have more than 30 tools to support teens and families, including supervision tools that let parents limit the amount of time their teens spend on Instagram as well as age verification technology that helps teens have age-appropriate content served to them.
"We'll continue to work closely with experts, policymakers and parents on these important issues," she said.
Davis stood firm against the accusations that their content could be construed as dangerous or promoting dangerous ideas, insisting that if there is content that does promote this kind of content, it is flagged and reported.
"We don't allow content that promotes suicide, self-harm or eating disorders, and of the content we remove or take action on, we identify over 99% of it before it's reported to us," Davis told NPR in an email.
Jose Castenada, a Google spokesperson, did not comment on the lawsuit but did tell NPR that the company, which owns YouTube, has "introduced strong protections and dedicated features to prioritize their well being."
Social media corporations like Meta and Google have long been protected from lawsuits such as these because of a law known as Section 230, which says tech companies can't be held liable for what others share on their sites.
However, that could change in the coming months.
The Supreme Court will hear arguments next month in a case that is working to limit Section 230 and puts social media companies' recommendation algorithms front and center. These are the same algorithms that are at the epicenter of the Seattle School District's lawsuit.
Read the entire lawsuit filing here.