A Single Mom Asked Strangers To Cheer For Her Graduating Daughter
The crowd went wild for the young girl's accomplishment.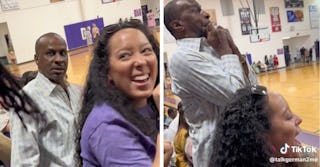 TikTok / @talkgerman2me
One single mom was given an abundance of love and support from fellow parents during what appeared to be an elementary school graduation. The sweet moment unfolded when the mom, Brandy, enlisted the help of the strangers near her to cheer for her daughter when she got on the stage to accept her award.
A fellow mom at the ceremony, Tiffany, started recording the situation as her husband, MJ, started warming up and preparing to do some outstanding cheering for the stranger's daughter, Aria. Tiffany captured the hilarious moment on camera in a now-viral TikTok video.
The clip begins with Brandy talking to Tiffany's husband, who says "Oh [I'm not] playing," reassuring her that he would be cheering with gusto when her daughter was announced on stage.
"Oh you're laughing, but I'm holding you all to it too since you just sat back here," she turns and says to Tiffany.
"You recruited him to holler for your baby?" Tiffany asks.
"Yeah because we're a party of one," Brandy says, jokingly referring to herself as "we." "So help this single momma out and holler for my baby."
Tiffany, ready to cheer, asks the mom which girl was her daughter.
"Aria Thomas, curly hair, green sweatshirt," she describes.
As Tiffany and Brandy have the conversation, MJ continues his "practicing", making noises and hilarious yelling sounds with his mouth wide open in preparation for the cheering.
"He's going to show out?" Brandy asks, referring to all the practicing. "I told him you made the mistake of sitting by me, so."
During his last little "practice," his family finally pleads with him to stop since he was being so loud, but the mom can't hold back her giggles as they all prepared for the moment when Aria would cross the stage.
Then, Aria's moment finally comes.
"Right here," MJ says.
"Aria Thomas," the announcer calls.
Everyone in the section begins to call out, scream, and cheer for the young girl as MJ whistles for her.
"I didn't even know you could do that," Tiffany tells him. "You didn't do that for Jade! I didn't know you could whistle like that."
Jade is their own daughter who was also walking in the graduation ceremony.
"I told you he came through! He came through!" Brandy repeated.
The video went viral — gaining 10.7 million views and 1.9 million likes — with thousands of TikTok commenters talking about the heartwarming moment.
"He is amazing! I truly believe there should be NO yelling until all names are called. It's so hard for kids without big families or families who care," one person wrote, noting that applause should be held until the end.
"The administration asked for crowd to cheer as they pleased 🥰," MJ replied.
Another chimed in, "As a single mom I absolutely love this!! I'm so glad he was all for it."
Once the video got traction, Brandy herself commented on the wholesome moment.
"Listen 👂🏽 I am so appreciative! I just wanted to make sure my baby felt celebrated 🎉and y'all definitely did that! It was the energy ✨ for me!" she wrote.
"Hi you're here 🥰 I've been waiting to tag you ! The love and energy was mutual 🥰" MJ replied.
In a reply to another comment, Brandy also wrote that MJ's vibe was electric and totally made the moment.
"The energy was giving from the moment they sat down! I just know he keeps his wife & family laughing because he was truly a character 😂," she wrote.