Nearly One-Fourth Of Sophomore Girls Spend 7 Hours A Day Or More On Social Media
That's more time on social media than sleep or school work.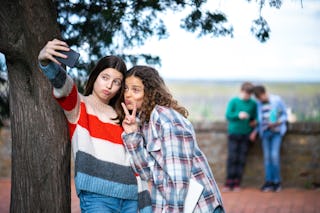 StockPlanets/E+/Getty Images
Recent reports have revealed that teen girls are suffering from sadness at alarming rates. According to the Centers For Disease Control (CDC), 3 in 5 girls felt persistently sad and hopeless — a marker for depressive symptoms — up nearly 60% from 2011.
Also according to the CDC, more than 1 in 4 girls reported they seriously considered attempting suicide in 2021, up nearly 60% from 2011. More than 1 in 10 girls reported they attempted suicide in 2021, up 30% from a decade ago.
Teen girls are in the midst of a mental health crisis, and many experts believe that social media may be partially to blame.
According to the latest research, many American teenage girls are now spending more time on social media than they spend on sleeping or school work. Psychologist Jean Twenge — who researches generational trends at San Diego State University — has studied mental health metrics for teens for over 10 years and has warned that a mental health crisis in teens was forthcoming.
Twenge explained to NPR that the time teens spend on social media began to rise in 2009, right around the time that smartphones were becoming more commonly used. Her viewpoints coincided with a 2017 poll from Pew Research that found 85% of teens used social media daily. In 2022, that number shot up to 95%, with one-third saying their use was nearly constant.
"Now, in the most recent data, 22% of 10th grade girls spend seven or more hours a day on social media," Twenge says.
This kind of usage should be a cause for concern among the nation's youth, especially teenage girls.
A JAMA Pediatrics study suggested that changes to brain function may correlate with social media use in teens.
Neuroscientists at the University of North Carolina conducted successive brain scans on 169 ethnically diverse children between the ages of 12 and 15, a period of especially rapid brain development, over the course of three years.
According to the research, middle schoolers who habitually checked their social media feeds showed a distinct trajectory, with their sensitivity to social rewards from peers heightened over time. Teenagers with less engagement in social media followed the opposite path, with a declining interest in social rewards.
Researchers did, however, note that there is much more going on with this age group than just scrolling endlessly for hours.
"We can't make causal claims that social media is changing the brain," Eva H. Telzer, an associate professor of psychology and neuroscience at the University of North Carolina, Chapel Hill, and one of the authors of the study, told The New York Times.
"[But] teens who are habitually checking their social media are showing these pretty dramatic changes in the way their brains are responding, which could potentially have long-term consequences well into adulthood, sort of setting the stage for brain development over time."
On top of all of that, teen girls are faced with an avalanche of toxic messaging, bullying, and negative feedback online. High school girls might are shown unrealistic (and often faked or modified) images, misinformation about health and diet, and even dangerous content related to eating disorders, drug abuse, and more. The information can be overwhelming and hard to process for teen brains.
So, what can parents do to help mitigate this seemingly runaway train?
Psychologist Amy Orben at the University of Cambridge explained to NPR that parents need to learn the ins and outs of smartphones and technology before letting their kids have a go. And even after that, parents should remain present.
"Social media for children is a bit like the ocean," she says, noting that it can be an extremely dangerous place for children. "Before parents let children swim in any open water, they make sure the child is well-prepared and equipped to handle problems that arise. They provide safety vests, swimming lessons, often in less dangerous waters, and even then parents provide a huge amount of supervision."
Contact the 988 Suicide & Crisis Lifeline if you are experiencing mental health-related distress or are worried about a loved one who may need crisis support. Call or text 988. Chat at 988lifeline.org.