A Mom In Denmark Posted A Video Of A Staffed Playground & It's Total Heaven
The mom enjoyed a coffee from a nearby cart while her kids participated in an amazing Lego activity.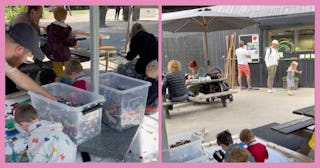 @annieineventyrland / TikTok
You probably already know that kids in France eat spectacular meals at preschool and that you can drink a beer at the park in Spain while your children play. Or that basically every other country in the world other than the United States has federal paid maternity leave.
But now we have to deal with the knowledge that some playgrounds in Denmark are staffed by helpful people who help look after your kids — and it looks absolutely amazing.
Like, Googling "Denmark work visa" amazing.
Annie In Eventyrland, a TikTok creator who is an American living in Denmark, shared a video that for her was a normal trip to the grocery store and park with her kiddos. But for people living in the United States, it was something closer to a wake-up call.
"POV you live in Denmark and after walking to the grocery store with your 4 kids you stop by the nearest staffed playground for them to burn off some energy," she captions the video.
And that's not all. They're also hosting a Lego "byg and hyg," which in Danish means, "build and enjoy."
From the video, it all looks pretty amazing. Her youngest kid is playing in what seems like a huge sandbox, while a couple of her older kids are building Legos with friends — and there are like huge volumes of Legos to be had. The camera then pans to another view, in which we can see what appears to be an indoor playground, lots of toys like hula hoops to interact with, and shaded tables for parents to sit and relax.
In the background, you can see swings, the playground, and a green expanse — all walkable from both Anne's house and the grocery store. And is that a Blondie song playing in the background?
Finally, the mom shares that while her kids are busy, she's free to relax with a morning brew.
"So you grab a cup of coffee from the car right outside while they play," she ends the video.
Down in the comments, parents in the United States were taking a hard look at their life choices.
"Did you say STAFFED playground?? **cries in American**," wrote one viewer.
"Babe wake up we're moving to Denmark," another wrote.
"Free Lego play? In the US it would be 49.50."
If you need to feel more jealous, follow Annie for more videos on what it's like to live in Denmark, like how they have the cutest 24-hour daycares for families with untraditional work schedules.
Excuse me, I need to go look at plane ticket prices.