Watch Moms Calling For Gun Control Get Kicked Out Of A Tennessee Special Hearing
"This is not what democracy looks like!"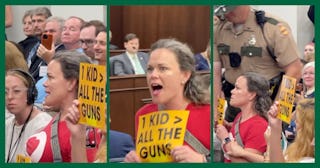 News Channel 5 / Instagram
Several families close to the fatal Covenant School mass shooting in Nashville broke down in tears yesterday after a Tennessee Republican leader ordered state troopers to remove the moms and others associates from a hearing room as they waited to testify in favor of stricter gun control measures.
The brave and poignant moment was caught by news cameras and quickly went viral.
The uproar occurred during the second day of Tennessee's special legislative session where Republican Gov. Bill Lee initially called in lawmakers to consider his proposal to keep firearms away from dangerous citizens.
In the now-viral clip, a woman who has been identified by Scripps News Nashville as Allison Polidor, told Tennessee troopers when first asked to leave the session, "It's my First Amendment right."
As she was escorted out of the room, Polidor also shouted at legislators on the subcommittee, "This is not what democracy looks like."
She was escorted out of the hearing room because she was holding a sign that said, "1 KID > ALL THE GUNS."
As Polidor was removed from the room, other gun control advocates can be heard defending Polidor, asking if signs need permits too while another says, "The heroes are walking out of this room!"
Polidor told Scripps News Nashville after she was removed from the hearing that she had brought the sign and attended Tuesday's hearings "for my kids—everyone's kids."
"They are making these laws or lack of laws," she continued. "I am here representing everyone's kids. No one should worry if their kids are going to come home from school or not. I feel like you can't sit by. When we've come to the point you can't hold up a sign, it's not OK."
It does not appear from news reports that Polidor or the other individuals holding the signs made any noise prior to being asking to leave by legislators.
Rep. Lowell Russell, the Republican subcommittee chairman, had also warned that he could order everyone out of the room.
Shortly after Polidor was removed, the hearing continued on until another Republican lawmaker said his bill was stalled. His bill would allow people with handgun carry permits to bring guns onto K-12 and college school property if they know the school doesn't have armed security.
That bill stall announcement led some gun control advocates still in the room to break out in applause.
"Are we going to quiet down and listen, or are we going to sit there and clap?" Russell said.
When some kept clapping, Russell said, "Alright, troopers, let's go ahead and clear the room."
Members of the media were allowed to stay, and some members of the public who were testifying on legislation were allowed in.
"We gave them three or four times to not do outbursts in the committee hearing, and unfortunately they continued after three, maybe four warnings," Russell told The Associated Press afterward. "So unfortunately, that's just the way it goes, if they don't follow the rules."
Covenant School mom, Sarah Shoop Neumann, was one of the gun control activists who planned to speak at the hearing before Russell removed the public.
"We're just trying to do something," Neumann later told reporters, as other Covenant parents huddled around her. "It's overwhelming."
Watching this moment of moms and people who just want the country to do better and protect our kids be totally ignored and denied their right to free speech is such a freaking gut punch.
Firearms recently became the number one cause of death for children in the United States, surpassing motor vehicle deaths and those caused by other injuries. The Centers for Disease Control and Prevention (CDC) recently released updated official mortality data that showed 45,222 firearm-related deaths in the United States in 2020 — a new peak.
The attack at the Covenant School was the 129th mass shooting of the year, according to the Gun Violence Archive. Since then, there have been over 200 more.
It appears now, more than ever, we need moms like Neumann and Polidor to demand industry regulations to protect our youngest and most vulnerable citizens against gun violence and speak up even if our voice shakes.