The Best Toilet Brushes, According To Amazon Reviewers
by Jenn Sinrich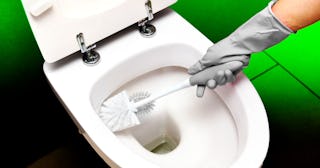 Scary Mommy and Peter Dazeley/Getty
No one *wants* to clean their toilet, just like no one wants to organize the bathroom or deal with that soggy bath mat. But if you want a spa bathroom experience, someone has to step it up, and having the right tools for the job is key. For a pristine bowl, you need one of the best toilet brushes on the market, because let's be honest, they make this dirty job way less intimidating. Some toilet brushes even come with disposable heads for the most hygienic experience possible.
If you own a toilet which, we're assuming you do, you're going to need a toilet brush, but not just any toilet brush. You need a toilet brush that can tackle even the nastiest of markings and one that is durable enough to stand the test of time (otherwise, you'll be buying a new one like every month).
Some modern-day offerings are far more high-tech than the crusty ones our parents kept on the sidelines of our toilet seat for the better part of our childhood. They use scratch-free, silicone bristles that don't soak up bacteria and are more user-friendly so that they're less of a pain to use. They also tend to come with convenient little caddies to keep the yuckies away while we're using the bathroom.
Ready to shop the best toilet brushes on Amazon? You may even want to score a few if you have more than one bathroom in your home.
Best toilet bowl brush
Best toilet brush and plunger set
Best toilet brush holder
Best silicone toilet brush