Uber Is Launching A Ride Service For Teens With Busy Parents
Starting today in 28 cities, teens will be able ride alone in Ubers — here are the safety features.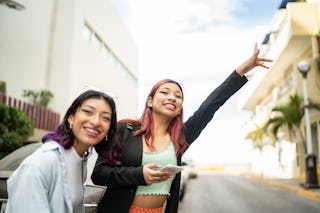 FG Trade Latin/E+/Getty Images
At some point during parenthood, you stop changing diapers and making lunches and start being nothing more than a chauffeur. Suddenly, as you teen navigates school, sports, activities, hobbies, and a social life, you spend more and more time behind the wheel, carrying your kid from event to event. If you have more than one, the logistics can soon become impossible.
Now one of our major ride share services is rolling out a solution — or at least trying it out in 28 major cities across the United States. Uber has launched a teen ride service that aims to help busy parents get their teens to and from activities quickly and safely.
Here's how it works: a parent can add a teenaged kid, ages 13 to 17, onto their account, where they'll be able to access the app on their own device. If they need a ride home from school or from a friend's house to soccer practice, they can just request a ride.
And yes, there are a lot of safety features. Parents will be notified every time a ride is requested — and they can track exactly where their teen is moment to moment. They will need to use pin verification and RideCheck upon getting into the car with an Uber driver. Teen and parents can even choose to audio record their rides in real time.
In addition, teens have to complete a short safety course before they're allowed to ride. At the same time, drivers who pick up teens will be vetted — only experienced drivers with a background check will be allowed to take jobs from teens.
Teens are allowed to bring friends along for the ride, as long as they are 13 or older. All teens must ride in the back of the car and buckle up.
Over at ABC News, one family spoke about their experience after using Uber Teen as part of a pilot program.
"One kid needs to be picked up from school. Another kid needs to get to an activity. There's a doctor's appointment that you didn't anticipate, so it's a constant juggle," Ruth Stern, mom of two, told the news outlet. "I couldn't be two places at once and I could get my child home safely from a location and still be with my other child."
Stern used the service to get her 15-year-old kid, Izzy, around town while she was driving her 10-year-old. While both mother and daughter felt nervous at first, both ended up liking the service and feeling comfortable.
"As a girl, it's scary. And sometimes, you don't know what's going to happen, but I felt really comfortable once getting in," Izzy told ABC News.
As the news has been announced, reactions have been mixed, both from parent and from Uber drivers. Some parents see it as a new way to balance their busy days of work-life balance while others see it as another safety risk that could result in kidnapping, abuse, or worse. Drivers are worried about getting into legal trouble if something goes wrong, getting low ratings, and yep, just dealing with teenagers.
To see a full list of the cities currently offering Uber Teen, or for more information on how to set up your teen's account, visit their website.