Only hurting our children
Utah Has Banned Gender-Affirming Healthcare For Transgender Youth
The bill is one of 238 introduced this year across the country that specifically targets transgender people.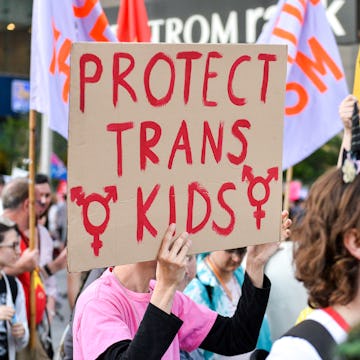 SOPA Images/LightRocket/Getty Images
New year, same heartbreaking nonsense. Over the weekend, Utah Governor Spencer Cox signed a ban on gender-affirming healthcare for transgender minors in the state. The move comes as lawmakers in 18 other states consider similar bills that limit or outright ban gender-affirming health care for trans youth.
The bill, SB-16, prohibits health care providers from "providing a hormonal transgender treatment to new patients who were not diagnosed with gender dysphoria before a certain date" and also "prohibits performing sex characteristic surgical procedures on a minor for the purpose of effectuating a sex change."
This means anyone under the age of 18 seeking to transition cannot receive gender-affirming surgery, and bans any minor who wasn't already diagnosed with gender dysphoria from receiving gender-affirming care. The law went into effect immediately with Cox's signature.
"This is a devastating and dangerous violation of the rights and privacy of transgender Utahns, their families, and their medical providers," Chase Strangio, Deputy Director for Transgender Justice at the ACLU's LGBTQ & HIV Project, said in a statement.
"Claims of protecting our most vulnerable with these laws ring hollow when lawmakers have trans children's greatest protectors — their parents, providers, and the youth themselves — pleading in front of them not to cut them off from their care. I want transgender youth in Utah to know this fight is not over, and we won't stop defending your autonomy and freedom until each and every one of you can access the care you need."
SB-16 is one of 238 bills introduced this year nationwide that target transgender people. Bills filed this year in Oklahoma, South Carolina, and Virginia aim to ban physicians from performing gender-affirming surgeries and prescribing hormone therapies to transgender people under the age of 21.
Another Oklahoma bill, the "Milestone Act" (which gets its name from a Bible verse that talks about punishing adults who harm children), would block Oklahoma's Medicaid program from allowing coverage of "gender transition procedures" to people under the age of 26 — which, to be clear, includes 8 years of adulthood in its range to ostensibly protect children.