Waiting To Exhale Taught Me What It Takes To Be A Mom
The movie helped me reimagine what unconditional love could feel and look like.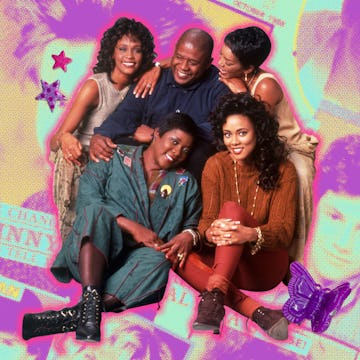 Emma Chao/Scary Mommy; Courtesy Teen Bop, 20th Century Studios; Getty Images
The movie Waiting To Exhale was released in 1995, when I was 10 years old. I had no business watching the iconic film, considering how little life I had lived. Back then, my screen time was limited (and monitored) to watching shows In The House and The Parent 'Hood, the epitome of PG-13 TV.
Based on a Terry McMillan novel, the movie followed the lives of four Black women and their dysfunctional relationships with men. The film starred beloved superstar Whitney Houston as Savannah, the career-driven boss with a weak spot for emotionally unavailable men; "Auntie" Angela Bassett as Bernadine, the scorned housewife turned liberated single mother; '90s It Girl Lela Rochon was Robin, the youthful, bad-boy-loving, free spirit turned grown-up; and the Loretta Devine was Gloria, a working single mom on a journey to put her needs first and find true love.
The film's marketing — and obviously its star-studded cast — created so much build-up before its release that when I close my 38-year-old eyes today, I can still hear the whispers in anticipation of it from the adult Black women in my life, before it even hit theaters. Waiting To Exhale was part of a cultural moment, one of a number of films that made waves during its time for its nearly all Black cast that gave voices to a group that was traditionally unheard.
While my 10-year-old self knew little about the depths of what these women's lives — filled with sex, identity, love, and conflict — truly represented, I was still drawn to it. Not just for the film's ultra Black celebrity cast, but for a curiosity to discover what the movie meant for me. What has stuck with me all these years are the examples the movie offers of mothering. I was parented with rigidity, sternness and yes, love, but mostly fear. So, I had to look elsewhere for inspiration on how to do things differently when it came time for me to start my own family. And Waiting To Exhale became a blueprint.
The movie is filled with scenes of every kind of circumstance and emotion that comes with living and dating as a straight woman. From falling in love, to falling out of love, the women experienced it all. And no matter what, the common thread was the women showing up for one another with tenderness and care, and unwavering support.
So, what does this mean for me and mothering? Everything. I was parented by someone who did their best at the time, but it wasn't good enough — I didn't experience the enormous feeling of being unconditionally loved by my mother. And I was aware of that from a very young age. While I wasn't sure then that I wanted children or a family, I knew if I did want children I would mother them with the unending love, compassion, and patience that I didn't get.
My mother, like most mothers, mothered how they were mothered. I heard a lot of outdated parenting tropes like "finish all your food before you leave this table!" and "your sister isn't crying like you are, look at her, she's a good girl." It was a stern upbringing filled with rules that had serious repercussions if they were broken.
The movie helped me reimagine what love could feel and look like when you let people be who they were and love them no matter what, even if you don't agree with their decisions. Yes, friendships are different from mother/child relationships, but there's so much overlap. Communication, trust, nurturing and conflict resolution are all transferrable elements that are present in both dynamics.
Waiting To Exhale also serves as the pinnacle of communal care. I wouldn't be who I am without the friendships I have. I truly believe that women can mother each other, and that communal care might be just as important as self-care. Plus, feeling seen by my friends — my closest allies — has helped me show up fully as a Black mom. My female friends have mothered me in more ways than I can count. Just like in the movie, my community has supported me with unconditional (sometimes tough) love, words of wisdom, affection and acts of service that have been vital to my ability to walk through life on life's terms with grace and confidence.
We all deserve to be mothered. And while my discovery of mothering came from a movie, the reach of what it inspired in my life is vast. This inspiration, this yearning, to allow myself to be loved on by those who love me, and to mother others just as they've mothered me.
Shanetta McDonald is a Los Angeles-based marketing executive and freelance writer who seeks to tell stories that are typically untold from a BIPOC perspective, about motherhood, body image, wellness, and career. Her work has been featured on InStyle.com, Refinery29, Bust and Miss Grass. Follow her on Instagram for more story updates.