A Millennial Couple Threw An Epic 'Vans Warped Tour' Birthday Party For Their Toddler
"Nobody likes you when you're turning three!"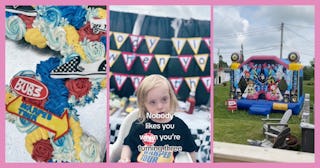 @oceanic.mama/TikTok
If you're a millennial who grew up during the age of bands like Taking Back Sunday, Brand New, and Dashboard Confessional, you probably also spent a summer or two at the Vans Warped Tour standing in a huge crowd while Blink-182 belted out "Rock Show."
Now, in our 30s and 40s, it's truly unfathomable to picture maneuvering through a crowd of sweaty people in 100 degree heat, paying $10 for a bottle of water, and laying in the grass for hours. And while there is no chance in hell you'll catch an elder millennial at a summer music festival where there's no air conditioned bathrooms, that doesn't mean we can't bring it to our backyards.
TikTok mom Maria (@oceanic.mama) threw her three-year-old son a Vans Warped Tour themed birthday, and it was any elder emo millennial's dream.
Warped Tour became a launching pad so many huge acts today like Blink-182, Sum 41, Limp Bizkit, My Chemical Romance, Fall Out Boy, and Paramore.
The traveling rock festival toured the U.S. each summer from 1995 until 2019. It was the largest traveling music festival in the United States and the longest-running touring music festival to date in North America.
In the viral video, Maria showcases all the amazing and spot on features from the party while "What's My Age Again" by Blink-182 plays in the background.
From the themed cake to the bounce house that literally looks like a music festival stage, every aspect of this backyard party was on point when it came to recreated the Warped Tour — toddler style.
The backdrop for the food as well as her son's adorable smash cake displayed a banner reading, "Nobody likes you when you're turning three," which is a play on the infamous "Nobody likes you when you're 23" from Blink's "What's My Age Again?"
The clip ends with her son, Salem, giving the cupcake put in front of him a loving stare before diving head first into the frosting in perfect toddler fashion.
"When elder emos have kids. Bubs Warped Tour '03! #toddlerbirthday #birthdayparty #threeyearsold #alttiktok @Vans @blink182," the caption on the viral video reads.
The video soon went viral, gaining over half a million views and hundreds of thousands of likes. Hundreds of TikTok users commented on the post, expressing their love for the nostalgic birthday party theme.
One user felt inspired by Maria's idea and wrote, "So cute! I am saving this to reference back! Our daughters first birthday theme is going to be : 'Good Scarlett: The One Year Anthem'. 😂"
The OP replied, "OMG YES!"
Another said, "My son is turning 4 and now I think I need to do a warped tour theme 😂 🖤"
One user joked, "imma need to see some proof of 10am mosh pits and people trying to sell their mixtapes outside 😂"
Another TikToker said, "Oh my god, I'm an elder emo and my son is named Vance and we call him Van. Van's Warped Tour. OMFG."
I'm not sure who would have more fun at a party like this — the kids on a sugar high or all the parents who get to relive their emo youth for an hour or two. Regardless, this is definitely one of the most creative birthday party themes I've seen for a kid.