A Dozen Music-Festival-Inspired Names For Your Baby
Does attending an all-day live music event light up your soul? Give your baby a name that is just that joyous.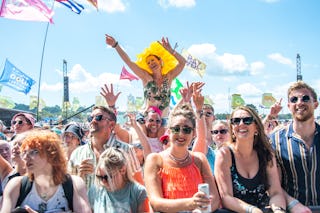 Joseph Okpako/WireImage/Getty Images
If you love attending music festivals — strategically planning your days and your outfits the way you'd plan a vacation — you can use that passion to inspire you on your hunt for a great baby name. If you go this route, the name might be a little on the flower-child side because, after all, nearly every music festival is reminiscent of the 1969 "Aquarian Exposition" that later became known as Woodstock. Modern-day fests are just larger, louder, better-organized, and well-promoted grandbabies of that landmark event, complete now with food trucks that let you tap a credit card to buy sushi or tacos plus hard seltzer.
If you're good with a hippie name with a bohemian feel, and you not-so-secretly hope your child will grow up to be your future concert buddy, consider a name inspired by a popular song or any of these dozen festival-inspired baby names.