What I Learned When My Son Gave Up His College Scholarship
by Melissa Tamberg-Heffron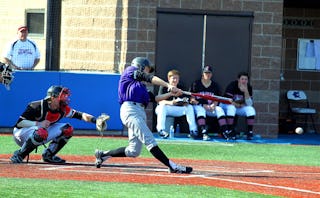 Melissa Tamberg-Heffron
After just one year, my son is walking away from a near full-ride college scholarship.
He doesn't have an offer to play baseball at another university yet. There is no lucrative job opportunity beckoning. He's not seeking the allure of a gap-year experience. In fact, beyond resolving to complete his degree in his native California, he doesn't know where he will end up.
Only that he was miserable where he was.
The overwhelming excitement of our firstborn being offered a combined baseball/academic scholarship to a Division 2 university had overshadowed any reservations we may have had about shipping him halfway across the country to South Dakota. Truth be told, the only thing I felt was my heart swelling with pride when he was celebrated onstage at the NCAA's early signing day, an event that honored our county's high school senior athletes as they committed with letters of intent to universities across the nation.
In a split second, my son's years of dedication and hard work flashed before my eyes: a full load of AP classes, daily infield drills, the muscle memory that comes from hitting whiffle balls in the yard each and every night. Not to mention every dollar we'd spent over the past decade—on batting lessons and travel ball fees, uniforms and cleats, plus an endless supply of bats, gloves and other gear—suddenly added up to an amazing return on investment. The countless number of weekends our entire family road-tripped to baseball tournaments, sometimes a state or two away, had culminated in this single moment of absolute gratification.
© Courtesy Melissa Tamberg-Heffron
Prior to accepting the scholarship offer, we had travelled from Southern California to South Dakota to check out the university that was courting him. Despite arriving the same day that a blizzard blanketed the entire campus, my son seemed to embrace the imminent experience with the fervor that teenagers do, envisioning a new adventure behind every corner.
The reality turned out to be far less appealing for the boy who grew up basking in San Diego's sunshine and splitting his free time between the surf and the mountains (all of which were in short supply in South Dakota). But I was still shocked when, a week into his second semester, he asked to come home at the end of the term.
While I loved the thought of him being closer, I'd be lying if I said I didn't struggle immensely with his request. I couldn't shake the feeling that I had somehow failed him. Had I raised a quitter? A young man who didn't appreciate an incredible opportunity? Had I unwittingly taught him to (literally) get going when the going got tough?
But by the time he completed his freshman year—and was so excited to come home that he drove 1,700 miles in just under 48 hours—I had a fresh perspective on the matter. I realized that…
1. I did not raise a quitter. My son had suffered silently through his entire first semester, barely muttering a complaint about the region's colossal mosquitoes, brutal wind chill factor or the lack of desirable prairie pursuits. Instead, he pushed through daily 5 a.m. weight room workouts and marathon afternoon practices, never taking his eyes off the prize: earning the starting spot at third base. When the season finally kicked off, the bag was his. But for reasons too complex to detail, the baseball program turned out to be a very poor fit for my son. And while it was one thing to endure an environment he despised while pursuing his dream on the field, it was quite another when he began to lose his passion for the game as well. He clearly wasn't just throwing in the glove lightly.
2. I did raise a problem-solver. The manner in which my son handled the predicament instilled in me a whole new sense of pride. It would have been easy for him to simply say, "I hate it here. I want to come home." (Translation: "Fix it for me.")
But he didn't. Instead, he approached me having already researched majors, tuition costs, scholarship opportunities and baseball programs at an extensive lineup of California universities (right down to the graduation year of each school's current third baseman). He not only formulated a plan, but had more than one back-up strategy.
3. He has the opportunity to learn from his choices (and his mistakes). I shared with my son every kernel of parental wisdom I could muster, urging him to consider each possible consequence of leaving: "Being a starter as a freshman is an amazing honor. You may not start—or even play—at another college." "This scholarship is a privilege, not an entitlement. You will need to make up any additional tuition costs on your own." "This is an excellent university with your desired major. Are you sure you shouldn't stick it out?"
Will he one day regret packing up? I don't know. Will he be a starter in another NCAA college program, or warm the bench? I don't know that, either. But ultimately, my job as a parent is to guide him—then step back and allow him to make his own decisions. He may soar, or he may crash. But if it's the latter, I am confident he has the tools to pick up the pieces and forge a new path.
4. He deserves to be happy. Ultimately, after my son had mulled over every option and potential outcome (including the possibility of no longer playing college baseball), and he still wanted to leave, I finally consented. What he shared the next day left me more than convinced of that resolution. In fact, it brought me to tears. "I woke up this morning and felt happier than I have since I went away to college," he told me. "For the first time, I felt like I wasn't trapped here for four years." I remembered moments in my own life when I'd felt confined, unable to escape a situation. It was not a sentiment I wished on my 19-year-old.
5. Changing his mind doesn't erase his accomplishments. The scholarship had been such a monumental celebration for our entire family, and what I eventually realized was that my internal struggle wasn't steeped in failure, but in disappointment—not in myself as a parent, and not in my son—but in the loss of our hopes and dreams for all that the experience could have been.
But that doesn't mean I have to let go of the pride I felt, or the joy of recalling him up on that stage, signing his letter of intent. That is mine forever; nothing can ever take it away.
In the end, I believe my son has made the best personal choice. Since NCAA restrictions prevent him from playing baseball at another Division 1 or 2 university this year, he opted to join the roster at a Southern California junior college that has proven to be a successful stepping stone for player recruitments. The coach not only comes highly recommended, but has already made room for my son at third base. We're all hoping that when he transfers to a four-year university his junior year, there will be another scholarship attached, but at this point, the future is anyone's guess.
All I know for sure is this: My son is swinging for the fence.
And I'm doing what I've always done, the only thing I know to do—I'm cheering him on.
This article was originally published on