Parents Hilariously Prank Daughter With Wrong 'Lord' Tickets
by Mike Julianelle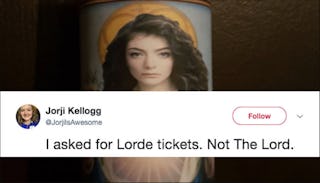 image via @Cazzy
Missing an 'e', but who cares, still the Lord
The generation gap is a real thing, people. You can't always expect your parents to be up on the latest in pop culture, which can sometimes make it hard to find common ground. Usually this is just annoying, but when they just don't understand what you want for Christmas, it can be a disaster.
Thankfully for one daughter, her parents from pop music. Thankfully for us, they also know from killer pranks.
Twitter user @JorjiIsAwesome shared what happened on Christmas morning when her parents misinterpreted her request for tickets to see Lorde and got her tickets to see "the Lord" instead, by way of attending one of Joel Osteen's services.
Stupid homonyms!
Enclosed along with tickets for "A Night With Our Lord and Savior: JOEL OSTEEN" was a note that read:
"Your father and I are proud and happy that you want to grow your faith and spend time with the Lord! Enjoy Pastor Joel Osteen at the Sprint Center! Love Dad and Ma"
Cue the melodrama, by which I don't mean Lorde's acclaimed second album and I do mean Jorji's tears.
Fortunately for her, her parents had understood her actual request to see the New Zealand pop queen and were only playing a savage prank and ultimately revealed that they had indeed fulfilled her Christmas wish to see the one true Lorde perform live on stage.
"So they gave me fake tickets and had me really thinking I got Joel Osteen tickets," she told Scary Mommy. "And then eventually they pulled out the real Lorde tickets.They just pranked me really good."
Jorji seems to be taking it okay, especially now that her tweet has gone viral with 164,000 likes and over 42,000 retweets. But how about Dad and Ma?
"My parents were excited I was getting my 15 minutes of fame," she said.
Obviously, when Jorji's tweet caught fire, a lot of people weighed in. Including one user with the perfect thing for Jorji to wave when she's at the show.
Most seeemd to enjoy the prank:
https://twitter.com/jetpack/status/946575967627239424
Mom herself even got in on the fun:
Others shared how they'd react to such a brutal practical joke:
https://twitter.com/jetpack/status/946789169962946561
A handful of people didn't seem to realize that it was a joke and that Jorji got her concert tickets, prompting Mom to try to put out the fire:
https://twitter.com/jetpack/status/946580253312462848
After all, the last thing they need is Lorde to get annoyed that someone is using her name in vain!
https://twitter.com/jetpack/status/946815949981798405
This article was originally published on