Paris Hilton Is Getting Her Own Netflix Cooking Show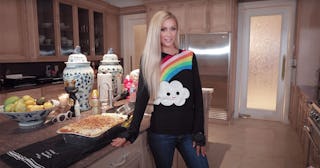 Paris Hilton/Youtube
Paris Hilton's Netflix cooking show will feature the heiress learning to cook with the help of famous pals
You might recall that in early 2020, before the pandemic crap hit the fan, we were enjoying simpler things in our trending news feeds such as Paris Hilton rolling out a 15-minute YouTube video called Cooking With Paris. It was delightfully entertaining and allowed us to witness Hilton attempting to cook lasagna, eventually calling the process "brutal" as she tried grating cheese with a pair of fingerless gloves on. It was honestly iconic and I've been hoping she would do more of this type of content and it looks like Paris, in conjunction with Netflix, has answered my prayers.
Variety exclusively shares that a Paris cooking show is on the way. It bears the same title as her YouTube vid from last year and hopefully, the same vibe. The world truly needs more Paris gems like, "Lasagna's, like, very hard to make. Well, actually, I don't think it is, but people think it is, but it's actually really fun and really easy. But I guess it is a lot of steps compared to making toast or something."
Iconic.
Hilton took to Instagram to share the happy news. "I'm so excited!! ✨👑✨ Next month I'm returning to television, and this time I'll be taking over the kitchen!" she says.
Hilton shares that the show premieres on August 4th only on Netflix and invites fans to comment with dishes they want her to make. Honestly, I'd watch this absolute icon of my youth make a peanut butter and jelly sandwich, but I'm sure she will come up with something more exciting than that.
According to Variety, the format will involve the heiress welcoming famous friends into her kitchen to help her cook using fun gadgets and ingredients. The whole process, from shopping to the finished product, will be featured and according to Netflix, the series will showcase Hilton's "very newly domesticated side" while she "learns to sauté, sear and zest," while showing viewers her "culinary expertise (or lack thereof), glam kitchen wardrobe and party-throwing skills with some of her fab celeb friends." I mean, sign us up? Like, immediately?
For those of us old enough to remember the golden age of The Simple Life you'll know that whatever reality show Paris is "cooking" up (see what I did there?) will likely be very entertaining. Here's hoping for a few utterances of "that's hot" as long as it's not in response to being burned by the oven.