10 Things Every 'Parks And Recreation' Fan Needs In Their Life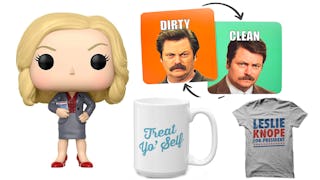 Images via Amazon
Take a trip back to Pawnee with these fab collectibles!
Parks and Recreation may be off the air, but TV's most charming comedy about municipal government lives on. Casual fans and die-hards can relive the best Pawnee memories through the collectible merch below.
Leslie Knope is the candidate we all need right now — for president, FBI chief, house speaker, and all of congress — just a thousand f***ing Leslie Knopes all over the White House. One can dream, right? For now, all we've got are the fantasies and the cute T-shirt, available in gray and white.
These Ron Swanson dishwasher magnets will eliminate all the pesky mystery surrounding your dishes. Does Ron look judgy? They're dirty. Does Ron look ever so slightly less judgy? They're clean. Simple. Now get out of my office.
Technically this shirt is a lie because the amazing Li'l Sebastian mini-horse died in the 46th episode of Parks and Rec, but only a crazy person would know that (ahem). Make all your friends jealous!
Nothing says "Treat Yo'self" like smugly sipping coffee from this mug at your own pace, no matter what's going on with the kids.
Their love was toxic on Parks and Rec, leading to an intervention and disturbing cornrows. But in real life, Nick Offerman and Megan Mullally share a beautiful and hilarious romance dating back to 2000. They chronicled the whole damn adorable thing in The Greatest Love Story Ever Told, a memoir in the form of oral interviews.
Collect all the Parks and Rec Funko Pop! figurines from Knope to Ron Swanson to April Ludgate. At 3.75 inches tall, these cuties can guard your office pen stash or send confident juju through your pocket.
The Pawnee seal features an armed man standing proudly over a dead buffalo. Behind him is another pioneer standing in a decimated forest with an axe. If this doesn't say "2018," we don't know what does.
Immerse all your senses in the Pawnee-iverse with these lovely air fresheners! Make your car smell like JJ's Diner (apple), or your gross gym bag smell like Sweetums (raspberries), and your bathroom smell like a place where you'd like to Treat Yo' Self (vanilla). Now, if only they'd invent Saperstein's cologne so everyone around you will go away.
In season 6, the character Ben Wyatt invents the brilliant, overblown, impossible board game Cones of Dunshire. Leslie rolls her eyes and tells him to get a job, but many mega-fans wanted to play the game: 6-sided die, character sheets, giant cones and all. Unfortunately, you can't, because the game doesn't exist — but this mug will keep the dream alive.
If you haven't read this candid feminist memoir, you must. Not only is Yes Please a brilliant insight into Amy Poehler's life, it's a hilarious tell-all about the Parks and Rec characters. Plus, it was written in 2014, so you can feel like you're going back in time to a glorious era when Parks and Rec was still on the air, and 2016 is way far away.
We are a participant in the Amazon Services LLC Associates Program and may earn fees by linking to Amazon.com and affiliated sites.
This article was originally published on