Why The AAP Says Parents Should Stop Using This Popular Baby Toy ASAP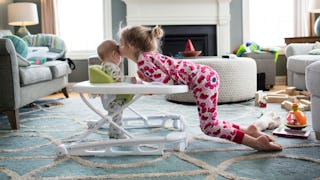 CAVAN IMAGES/GETTY IMAGES
Do yourself — and your child — a solid favor. Find the baby walker your little one loves to freely roam around the house in (ya know, the one that gives us parents our hands back while hopefully teaching the youngin' how to maneuver those chubby legs).
Now that you've found it, promptly pick it up. Go outside, demolish that recipe-for-disaster and then throw it in the trash bin where it rightfully belongs.
Because, as it turns out, baby walkers are seriously dangerous for little ones, and it's always been this way.
A recent study published by the American Academy of Pediatrics says that they are seeing more than 2,000 children each year injured from baby walker-related accidents.
The study says that adult supervision cannot be trusted to prevent infant walker-related injuries. With walkers moving at more than three feet per second, an infant can be across the room before an adult has time to react.
According to the recent study's lead senior author and the director of the Center for Injury Research and Policy at National Children's Hospital, Dr. Gary Smith, the wheels on walkers allow them to increase in speed, leaving babies increasingly susceptible to walker-related injuries because they reach places faster than a parent might usually believe.
Smith told CBS News that he's been seeing these injuries in ERs since the '70s, and the parents are "good parents, who were carefully supervising their children with using the baby walker as intended."
"Their only error was that they believed the myth that baby walkers are safe to use," Smith explains.
Many parents, including me, use or have used baby walkers to help their little ones learn how to walk. But the AAP says, "Walkers do not help a child learn to walk…[and] they can delay normal motor and mental development."
So how are major brands still getting away with the manufacture and sale of baby walkers? There's nothing set in stone to prevent it. Not yet, that is.
New Jersey Senator Linda Greenstein is hoping to change that. Her bill would allow police the power to confiscate and fine anyone up to $10,000 for selling walkers in New Jersey.
Greenstein's bill has been approved by the state Senate Law and Public Safety Committee by a 4-1 vote.
With baby walkers not providing any advances in children's development and sometimes causing serious injuries, Greenstein says, "There's really not much good to them except that they're a bit of a babysitting device, I think."
From 1990-2014, the same study further stated that emergency rooms have seen more than 230,000 children under 15 months old harmed from baby walker-related accidents.
Ninety percent of the injured children had sustained head and neck injuries, and four out of ten children were diagnosed with skull fractures. Not to mention, a whopping 74.1% of the children examined had fallen down a flight of stairs in their baby walker.
Additionally, the U.S. Consumer Product Safety Commission reported eight child deaths associated with baby walkers from 2004-2008. Three of those deaths occurred when a child in a walker tumbled into a pool or bath tub.
This madness has got to stop.
At this time, Greinstein's bill does not have a sponsor. But pediatricians back Greenstein's call to ban baby walkers. In fact, the American Academy of Pediatrics recommended a "ban on the manufacture and sale of mobile infant walkers" decades ago due to numerous injuries and deaths. But somehow, someway, they are still flying off the shelves today.
"We support the position of the American Academy of Pediatrics that baby walkers should not be sold or used. There's absolutely no reason these products should still be on the market," Smith told NPR.
America doesn't have to search too far to find another country with similar bans like the one Greenstein's bill is proposing. Our neighboring country, Canada, has placed a ban on infant walkers ever since 2004. Specifically, "It is illegal to import, advertise for sale, or sell baby walkers in Canada. It is also illegal to sell baby walkers at garage sales, flea markets, or on street corners. If you have one, destroy it so it cannot be used again and throw it away."
Smith and his colleagues agree with the Canadian government's safety measures and suggest American parents remove the wheels off of their walkers and dispose of them so another child will not face serious, potential injuries or potential death.
Even with safety-gates blocking off areas such as pools, fireplaces, stairs or just a ledge leading from one room to another, baby walkers still pose as a potential hazard for infants, including the times when they are under adult supervision.
Thankfully, America has seen a decrease in the number of baby walker-related injuries over the last few decades. Something Smith and his colleagues attribute to the stricter safety standards in previous years. But the American Academy of Pediatrics still says that the safest baby walker is one without wheels.
"There are safer alternatives that young children enjoy such as stationary activity centers that spin, rock and bounce, but do not have wheels that give young children dangerous mobility," Smith explained.
If Greenstein's bill is passed, New Jersey would be the first state with a baby walker ban.
Awareness needs to be raised, and it needs to be raised now. Baby walker-related injuries have been happening ever since the dawn of baby walker creation. It's not okay, and it shouldn't be taken lightly.
There are absolutely no benefits to baby walkers, only serious developmental and safety concerns.
This article was originally published on