The Internet Is Divided Over This Pickles And Peanut Butter Recipe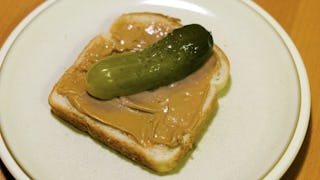 Image via RonTech2000/Getty Images
New York Times: Try pickles and peanut butter together
The New York Times has set the internet ablaze this week after it championed an unconventional sandwich recipe: peanut butter and pickles. Sure, the paper is typically covering important news, but the world's been a dumpster fire since Election Night 2016 so let's hear these journalists out.
First, the original tweet that started all the drama:
While the Times shared this quirky post on Friday, the "recipe" was originally posted in 2012. It's not quite a recipe since it only includes four ingredients: two slices of your favorite bread, butter, peanut butter, and bread-and-butter pickles. It takes about 90 seconds to make, and Times Book Critic Dwight Garner promises it's "a thrifty and unacknowledged American classic."
Apparently, this is his favorite sandwich. So, bro isn't just advocating for something a little interesting, he's committed to it. "The vinegary snap of the pickles tempers the unctuousness of the peanut butter, and it's an unusual pantry sandwich for when luncheon meats leave you cold," the Times wrote.
More than 800 people shared their thoughts on the peanut butter pickle scandal on Twitter alone.
Lots of people loved the concept:
https://twitter.com/jetpack/status/982354194639319040
https://twitter.com/jetpack/status/982361029983154177https://twitter.com/jetpack/status/982739116998692865
And this NYT reporter even upgrades his peanut butter and pickle sammies.
Some like the idea but don't want a whole sandwich.
https://twitter.com/jetpack/status/982356424658509826
Several folks wondered if there was a reason behind this specific craving.
But, like me, lots of other folks were just a resounding NOPE.
https://twitter.com/jetpack/status/982356594938859520https://twitter.com/jetpack/status/982351621429456896
My husband would eat this in a second as he puts pickles on all kinds of snacks, but I'm going to stick with the classic PB&J.
This article was originally published on