Pink Slams Internet Trolls Who Can't Handle A Naked Baby Pic
by Julie Scagell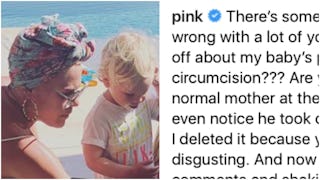 Image via Instagram/Pink
You don't call for Pink, she comes for you
There are many things you don't ever (ever) offer your opinion on about another person's child. Wait, I'm kidding — you don't offer your opinion about anything unless you are specifically asked for it. So, you can imagine how things went when Pink posted a vacation pic of her kids and people commented on her son's penis (yes, you read that right).
The singer and mother-of-two are on vacation with her family, posting a couple of adorable pictures of their trip. One such photo was of Pink and her two kids, two-year-old, Jameson, and seven-year-old daughter, Willow, making friends with a neighborhood pelican who happened by. Apparently, the original picture she posted, Jameson didn't have his swim diaper on which left some pretty hateful people an opening to comment on her son's penis.
"There's something seriously wrong with a lot of you out there. Going off about my baby's penis? About circumcision??? Are you for real?" she wrote. "As any normal mother at the beach, I didn't even notice he took off his swim diaper."
RELATED: Considering Circumcision? What To Know About Circumcision Care
I guess people zoomed in (what in the actual hell) and decided to comment about the fact that Jameson is either circumcised or not. I don't know (or care) if he is or isn't because omg it's not my kid and why does it matter anyway? It's a decision that is up to that family, period, end of story, thanks for playing, don't let the door hit you in the ass on the way out.
Pink has never been one to back down from total honesty or internet trolls. She's come to her husband's defense on several occasions when he (gasp) fed Jameson chocolate, or the time she posted a video of a sweet fan singing to her and someone decided to say she looked old. She's famous because she's an uber-talented badass, but she's not anyone's punching bag.
"I deleted it because you're all fucking disgusting. And now I'm turning off my comments and shaking my head at the state of social media and keyboard warriors, and the negativity that you bring to other people's lives," she wrote a few hours later next to a new post of the same pic with Jameson's penis blacked out. "There is something seriously wrong with a lot of you out there. Smfh."
She also snapped back when someone found a negative thing to say about her family having a nice dinner together, of all things. She captioned the sweet snap, "At least twice a week on tour, we shut the door to the outside world and have family dinner," and a lovely fan retorted, "Except it's posted on ig."
Pink replied, "yes I like to promote healthy stuff. I also like to remind people to stop being TOTAL DOUCHE BAGS TOO. Consider this your reminder, fucko."
It's hard to understand why the trolls keep coming when she's this good at the clapback.
Clearly, she's not letting these hateful idiots ruin her fun. Earlier in the week, she posted this adorable photo of the trio on a boat looking as gorgeous and happy as ever.
Hopefully, she's not spending any more energy on these random strangers and their hatefulness. And you know it wouldn't be Pink if she didn't get in a hilarious dig at some point in her post. "Here's a picture of the pelican we obviously caught and abused for hours before dangling baby penis in its face."
Bless.
This article was originally published on