Dad Breaks Down At Son's Major League Baseball Debut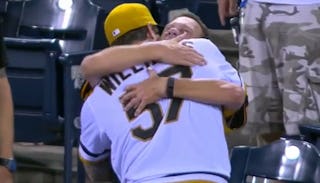 Image via YouTube
Trevor Williams' emotional moment with his dad is the best part of his first major league game
We just totally lost it watching this video. All the feels. Pittsburgh Pirates pitcher Trevor Williams had a memorable night debuting in the major leagues. He snagged a 4-3 win against the St. Louis Cardinals stopping the Pirates' eight-game losing streak. This is his first career win. But that's not even the best part. The best part is his dad's reaction to seeing his son play.
At the end of the game Williams went over to kiss his wife Jackie, and their 11-month old son Isaac. In this already emotional moment, Williams' dad looks on smiling and loses it. Raw emotion just washes over him and pours out in this video. It's beautiful.
His dad could not be prouder and it shows. Williams grabs his father for a big hug and you can feel the love. He then hands him a signed baseball and a few more tears are shed. It's such an amazing moment to have captured. Apparently all of the Pirates were touched too as they tweeted out these pictures with the caption, "All the feels."
The moment is especially sweet for two reasons. One, because Williams just got called up from the minor leagues on Tuesday and already claimed a victory on Wednesday. Second, his dad has been battling lymphoma for a year according to the Major League Baseball (MLB) website. Williams told ESPN that his dad has been undergoing treatment and they're currently waiting for the results to see if he's in remission or not.
In an interview post-game, Williams says, "There's no one else I would rather share that moment with than my dad. He's been with me since the very beginning."
Wow. Chills.
Williams' dad has been taking him to games since he was very young. A tradition that Williams' own baby will obviously experience but in a different way – watching his major league dad on the field. And while Isaac missed the momentous occasion catching some baby zzz's in his mama's arms, we imagine he's dreaming of seeing his dad taking home many more wins.
This article was originally published on