12 Pizza Coloring Pages Your Little Pizza Monster Kneads In Their Life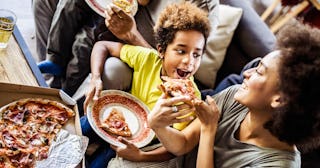 skynesher/Getty Images
Soccer practice ran late. You forgot to pull out the chicken to thaw. Last week, you dropped the Instant Pot lid, and it broke. When you need a dinnertime savior, there's only ever one answer: pizza. For countless citizens around the world, it's a safe, easy, and relatively cheap option. Whether you go for Chicago deep dish or New York-style pizza, you'll rarely end up walking away worried about food poisoning. And, of course, it's reliably delivered to nearly every corner of our country. While it may not be the healthiest fast food option, it's probably not the worst, either. Plus, there are roughly a zillion pizza jokes to make while you share a pie with your kiddos. So, unless you have a gluten allergy or milk intolerance in the fam-bam, you're probably eating pizza pretty often. No judgment here! We flippin' love pizza. So much so, in fact, that we've whipped up some pizza coloring pages that are free, printable, and perfect for a post-pizza, pre-bedtime wind-down activity.
Want even more coloring pages? Hey, we've got you covered. We have princess coloring pages for the royalty in your life. Even your basketball fan will manage to sit still and color for a few moments if you print out some basketball coloring page options, too. Or, if filling in all these pizza pages made you hungry, feast your eyes on our ice cream coloring pages and cupcake coloring pages. Whatever your kiddos are into, we probably have some free, printable coloring pages to whet their creative appetite.
Free Printable Pizza Coloring Pages
Pizza Page No. 1
Roughly 350 pizza slices get eaten each second in North America. Another way to look at it? We eat about 100 acres of pizza each day. And we average about 46 slices of pizza a year. That comes out to less than one slice a week and, honestly, seems a little low. But that average probably factors in all the people in the U.S. who don't eat pizza at all. (There's, like, five of you, right?)
Pizza Page No. 2
While the first pizza place was opened in 1905 in New York (of course!), it took a few decades to really catch on. It rose in popularity when soldiers who ate it while in Italy during World War II came home wanting to share the food experience. And speaking of yummy pizza and history, Arthur Avenue in the Bronx has some of the tastiest pizza around. It's also known as Little Italy. Did you know there's a restaurant in the neighborhood called Mario's Restaurant that's been serving food since 1919?
Pizza Page No. 3
Pizza isn't just famous in Italy and the U.S. — it's a global phenomenon! Like, did you know that North Korea has a pizzeria in Pyongyang? It opened in 2009 after chefs from the region were reportedly flown to Italy to learn the proper technique.
Pizza Page No. 4
According to the Department of Agriculture, roughly 13 percent of Americans eat pizza each day. Assuming there are no "repeat offenders," that would mean that 91 percent of Americans will eat pizza each week. (But let's face it: Many of us are, indeed, repeat offenders.)
Pizza Page No. 5
That's OK, though! Aside from the obvious servings of fruit, veggies, and dairy you might check off during your pizza binge, you're also getting essential antioxidants. According to some studies, a serving of pizza offers more than half the lycopene our bodies need each day. Lycopene is a super-important antioxidant found in tomatoes that helps prevent heart disease, among other issues. So, ya know, we're calling pizza a healthy food.
Pizza Page No. 6
Mmm, supreme pizza! What do you like on your pie? If pepperoni is your favorite, you're not alone. It's estimated we eat more than 250 million pounds of pepperoni each year. Oof. Someone pass the Tums!
Pizza Page No. 7
Of course, pepperoni is pretty basic compared to some pizza ingredients. For instance, in Italy, you can order a $12,000 pizza topped with things like lobster and caviar. Can you say fancy?!
Pizza Page No. 8
Another surprising pizza toppings combo comes from Japan. When you visit, you can get a pizza with mayonnaise and potato. Hey, we like mayo and taters, so we're not going to knock it until we try it.
Pizza Page No. 9
Craving pizza yet? Order away. Just jot down a note on your calendar to make other menu plans when Super Bowl Sunday rolls around — it's the busiest day of the year for pizza delivery.
Pizza Page No. 10
Are you curious about other super-busy delivery days? After Super Bowl Sunday, some of the busiest days in a pizzeria are New Year's Eve, New Year's Day, and Halloween. The night before Thanksgiving is also notoriously hectic in the pizza business. It makes sense, right? We're not cooking the night before we have to make a giant Turkey Day meal.
Pizza Page No. 11
What's your favorite pizza topping? Is it mushroom? Or pineapple? Or how about anchovies? Well, 36 percent of pizzas are topped with pepperoni, and more than five billion pies are sold a year. So encourage your kiddo to make their paper pizza order above special and to add all the fixings they like. The sky's the limit!
Pizza Page No. 12
Just guess how many pizzerias are in America? The answer is over 61,260. That sure is a lot of mozzarella, sauce, and dough! And if you're looking to expand your toppings pallet, a few gourmet options include oysters, crayfish, dandelions, artichokes, and tuna.
Click here to print all of the pizza coloring pages at once!
This article was originally published on