A Teenager In A Plaid Shirt Hilariously Upstaged Trump At His Rally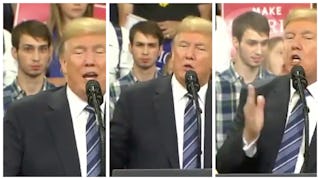 Image via Twitter/Reuters
A skeptical audience member wearing a plaid shirt was the real star of a Trump rally
Last Thursday, Donald Trump held a rally in Billings, Montana and rattled through his greatest hits (slamming Hillary Clinton, lamenting losing the popular vote, etc, etc). The true star of the evening was a guy wearing a plaid shirt standing directly behind the president, who repeatedly expressed skepticism, flat-out disbelief, and mouthed the word "what" during the president's speech.
Unsurprisingly, the internet has quickly fallen in love with Plaid Shirt Guy.
Meet Tyler Linfesty, aka Plaid Shirt Guy. He's a 17-year-old high school student who won a raffle that snagged him a VIP seat during Trump's latest rally. That prime spot allowed Linfesty to publicly express his feelings throughout the president's speech, occasionally directly to camera. It was truly a sight to behold.
It's hard to pick favorites, but the best moment, in my opinion, is when Trump said that he's "picked up a lot of support" and Linfesty mouthed at the television camera "have you?"
And also just all these faces below.
Linfesty was eventually removed from the rally and replaced by a perky brunette woman but the damage was already done. The internet had fallen in love with Plaid Shirt Guy and was bowing down to him and his cheeky, snarky ways.
Many likened him to Jim Halpert, aka King of the Camera Smirk, to which I say yes, yes, and yes again.
Turns out Linfesty identifies as a "social democrat," according to The Daily Beast, and was wearing a Democratic Socialists of America sticker on his shirt during the Trump rally. He told CNN that he wasn't hamming it up for the camera and was genuinely reacting in real time to what the president had to say.
"All of those reactions were my actual reactions," Linfesty said. "I would have made those faces if anyone were to say that to me. I was not trying to protest. Those were my actual, honest reactions." He said that he clapped when he agreed with a small handful of the things Trump had to say and didn't clap when he disagreed.
The student noted that he didn't fight back when he was asked to leave because he had a pretty solid idea of why they wanted him off camera. Less funny, however, is the fact that he was removed from the rally for making faces. And then was detained by Secret Service for 10 minutes. If that's not some authoritarian bullshit, I'm not sure what is.
"I think I know why they removed me," Linfesty said. "Before the rally, they told us we had to be enthusiastic you have to be clapping, you have to be cheering for Donald Trump and I wasn't doing that because I wasn't enthusiastic, and I wasn't happy about what he was saying."
This article was originally published on