15 Places To Find Pokémon Coloring Pages So You Can Color Them All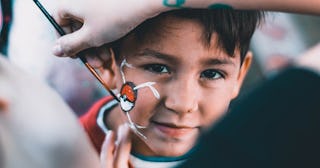 Austin Pacheco/Unsplash
You ever find yourself shuffling through a deck of Pokémon cards and wonder if the Pokémon creators ever thought the world they created would still be around a quarter of a century later? Moreover, did you ever imagine you'd still be caught up in the Pokémon world 25 years later? Funny how parenthood brings you full circle like that! Known as "pocket monsters" in Japan, Pokémon came about in 1995. What started from a deck of cards full of adorably dangerous creatures quickly turned into a giant, money-making franchise involving television shows, video games, books, merchandise, an app game and so much more. These days, kids are more likely to know the names of Pokémon than of dinosaurs. They're more intrigued with vaporeons than with velociraptors. But, like, who wouldn't be? I'm sure your kids can attest, it's way more fun.
RELATED: 10 Royally Cute Princess Coloring Pages To Help Mama Get Some Peace & Quiet
Because of Pokémon's massive popularity, there are tons of coloring activity options involving your favorite pocket monsters. While you could easily run to Target or Walmart and pick up a coloring book, there's an easier and cheaper option. We've scoured the internet and pulled together the best places to find free, awesome Pokémon coloring pages. You can print these at home and never even have to put on a bra. You're welcome.
Online Pokémon Printout Sites
1. Pokémon
Unsurprisingly, one of the best places to find Pokémon printables is from the official site. Not only is there a decent collection of coloring pages, but there are all kinds of other paper activities to print and do, as well. What more could a Pokémon trainer ask for?
2. Super Coloring
Super Coloring has literally hundreds of Pokémon coloring pages. Even better, they're split into their proper generations. They even have pages devoted to Pokémon Go!
3. Coloring Pages 101
With more than 300 easy and unique Pokémon coloring page options, Coloring Pages 101 is another great database to use. There's absolutely no way your little trainer can't find just the right monster to color.
4. Hello Kids
Aside from a ton of coloring pages, Hello Kids also offers up some cool, printable activities. They also have printable, colorable Pokémon posters.
5. Best Coloring Pages For Kids
Looking for a super adorable printable coloring page featuring Squirtle? Best Coloring Pages For Kids has that and so much more. Most of their pages are very simple line drawings but there are a few more intricate options, as well, to appease those who are more advanced with their crayon skills.
6. Coloring Library
Coloring Library not only has a ton of great coloring pages, they also have dot-to-dot options! (Yeah. We're that excited.)
7. Winding Paths Art
Speaking of advanced coloring… Winding Paths has some of the coolest, most intricate Pokémon Coloring Pages we've seen. Most monsters are backed with a mandala, making them extra trippy and fun to color.
8. Coloring Book
If you or your kid are the kind of people that like to scroll and scroll through Netflix or Hulu before finally deciding to just watch your favorite show (again), Coloring Book might be your favorite option. There are so many great Pokémon pages to choose from and they're all on one page, for limitless scrolling.
9. Just Color Kids
So far, Just Color Kids offers up simple, thin-lined coloring pages from Generation I Pokémon, only. However, they look like they should be releasing more generations any day. Pretty exciting!
10. Print And Color
Your wild thing will probably love the monsters available to print from Print and Color — they all look like they're ready to fight!
11. Woo Jr.
Woo Jr. is such a great resource for all kinds of mama and teacher things, but their specially drawn coloring pages are especially great. Their Pokémon collection will definitely please your kiddo.
12. Nintendo
Because Nintendo has a Pokémon game, they also have a hand in the giant Pokémon money pot. So, of course, they have their own set of (free) Pokémon coloring pages. Even better, some are color-by-number which is a great way to teach your kiddos to follow instructions.
13. Teachers Pay Teachers
Whenever possible, hitting up Teachers Pay Teachers for coloring pages and other activities is a great idea. You pay a nominal fee, but you get to know that your money is going to all our wonderful-but-underpaid educators. Teachers know how much our kids love Pokémon and they've created tons of coloring pages and other cool learning resources specifically themed to accommodate that obsession.
14. Morning Kids
Want to stave off boredom on a rainy weekend? Pikachu coloring pages can be your saving grace. Morning Kids offers other Pokémon pages as well, but their Pikachu printables are super cute and even include Sacha!
15. Pokémon coloring books on Etsy, Amazon, and other retailers
Parents, you don't have to fuss with printing out coloring pages if you don't want to. Head over to any online retailer and browse around for a mini-book that collates the most fun Pokémon coloring pages. You might even be able to find a specific coloring book for the characters and dragons your little one loves the most.
How to Draw Pokémon
Need a step-by-step guide to drawing your own Pokémon? After all, isn't it more fun to color in your very own artwork? Luckily outlets like DragoArt and various fan-created YouTube videos take die-hard fans through all the details and fail-proof guides to drawing your own Pikachu and Charizard, among many more.
What is Pokémon Go?
If your little ones are interested in coloring in and drawing Pokémon characters, their next request may be to hunt them, which they can do by playing Pokémon Go. By downloading the app on their phones, which is available on both iOS and Android devices, they can bring the pocket monster universe to life in a way the cards never quite could. The app uses GPS to place different Pokémon within your area. It's a great way to break up the COVID-19 boredom your little ones may be feeling. Your kids can play this indoors and around the house or in the backyard, and as they walk around they'll run into their favorite Pokémon, which pop up on their devices. When the kids are finished coloring, they can literally "catch 'em all" by throwing digital Poké Balls at the creatures they find to capture them.
The Pokémon Go app makes the experience even more realistic by placing certain creatures in environments based on their habitat. For example, your kids will find many bug-like Pokémon in the park and aquatic ones near lakes or oceans.
This article was originally published on