Police Officer Who Arrested A 6-Year-Old Now Under Investigation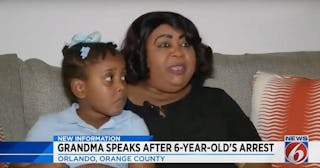 Youtube
A Florida school officer is being investigated after arresting a six-year-old and an eight-year-old
Officer Dennis Turner who works as a school resource officer at Lucious and Emma Nixon Academy, a charter school in Orlando, Florida is being investigated for arresting two different children at school on two different instances. Turner first arrested an 8-year-old, though it's unclear on what charges, and the child was processed through the local Juvenile Assessment Center. The officer also arrested 6-year-old Kaia Rolle for throwing a tantrum at school and after much outrage, the Orlando Police Department confirmed to Buzzfeed News that they are investigating the arresting officer.
6-year-old Rolle reportedly kicked a fellow student and threw a tatrum, so the officer promptly arrested her on Thursday September 19, 2019 on "battery charges," handcuffed her and put her in a police car where she was taken to and fingerprinted at a local juvenile detention center, though she was returned to school before she was formally processed. Rolle even had her mug shot taken.
Not surprisingly, Rolle's grandmother Meralyn Kirkland was livid upon learning that her first grader was arrested and spoke to NBC affiliate WLFA about the injustice.
"No 6-year-old child should be able to tell somebody that they had handcuffs on them, and they were riding in the back of a police car and taken to a juvenile center to be fingerprinted, mug shot," Kirkland said.
When Kirkland told the arresting officer that Rolle is just a child and that her outburst might be related to the fact that she's struggling with sleep apnea, Officer Turner told Kirkland, "Well I have sleep apnea and I don't behave like that."
Obviously there was a huge internet backlash to the shocking arrest of both these children, but officer Turner is technically being investigated for not getting the approval of a watch commander before arresting a child under the age of 12.
This isn't the first instance of police arresting a literal child and in almost all cases, these arrests are directed at black children. Back in May 2019, a video went viral showing Sacramento police arresting a 12-year-old boy who didn't appear to be doing anything wrong. They even forced a bag over his head, which is extremely controversial considering his age.
In February of this year, an 11-year-old boy was arrested — also in Florida — for refusing to recite the Pledge of Allegiance. During that incident, the boy's mother said: "My son has never been through anything like this. I feel like this should've been handled differently. If any disciplinary action should've been taken, it should've been with the school. He shouldn't have been arrested."