Polly Pocket Is Back, And We Are Freaking Stoked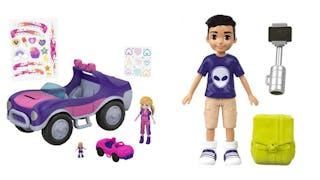 walmart.com
You know how our kids make fun of our boring toys from the '80s and '90s? Well, if your child happens to love tiny friends such as the new hot item of 2018—Polly Pockets—you can tell them that guess what? Mom used to play with those! Because those little suckers were big in the '90s, fell off the grid, and now they're baaaaaaack and better than ever, with a skateboard, laptop and even an S.U.V.
Here's a good mix of items from the new line, as well as a few vintage pieces your child might enjoy (and let's be honest, you too).
Your child can channel her love for Elsa and snow (and also maybe cool shit like snowboarding) with this winter wonderland that comes with a tiny snowman (obvs), ski lift, and lodge where Polly and her friends can warm up.
You know how your kids insist on taking a bag of toys everywhere they go? Well, this Polly Pocket toy is a backpack in itself! After they snowboard down the mountain in the Snow Secret Surprise Compact, your kids and their Polly friends can warm up in this Beach Vibes Backpack.
Chances are your kid gets dragged around town to and from school, to activities, to siblings' activities, the grocery store, etc. Imagine how much more cooperative they'll be playing in the backseat with their very own Polly Pocket S.U.V. (a secret utility vehicle—which is waaaaaay cooler than Mom's minivan).
And not all Polly Pockets are rainbows and butterflies either. This is a set of DC Polly Pocket villains, including Catwoman, Poison Ivy, and Harley Quinn. Let's see Batman try to take over now!
The thing kids love about Polly Pocket is that her world is tiny. But the Tiny Pocket World sets are the tiniest of the tiny, so your child is sure to love this Lila Bunny House play set that comes with the smallest bunny ever.
Polly Pocket doesn't just skip around and play dress up, you know. This girl can skate. And bowl. And when the other kids are zooming their Hot Wheels around looped race tracks, Polly and her friends can zip right alongside them in this tricked out bowling set.
This transformation play set is a home run for any child who loves Polly Pocket, as they can reenact their own lives with it. Their Polly doll can wake up in bed, get dressed, do homework on her laptop, and skateboard away, just like her human.
Surprise your Polly Pocket lover with this adorable light-up locket. Now they can be twinsies with all their Polly friends.
Kids will love the new line of Polly Pocket dolls, including Nicolas, who is a "photo journalist" and carries, what else, but a selfie-stick.
"Karaoke music kween" Shani is another new doll who comes ready to get her tunes on, with stereo in hand.
And finally, kids love Polly Pockets and all that comes with them, especially their tiny pets called "cutants." And they are cute, you have to admit. So don't forget to put this Cutant Friends Collection under the tree as well.
Polly's back, people. And we're pretty sure she'll fit right in with the Shopkins and LOLs that cover your floor, so yay for you. And your kids. (But maybe not your vacuum.) Either way, get ready to hear the squeals of delight on Christmas morning that your parents heard when you got your first Polly Pocket all those years ago.
We are a participant in the Walmart.com Affiliate Program and may earn fees by linking to Walmart.com and affiliated sites.
This article was originally published on