This Video Proves Pool 'Safeguards' Should Never Take The Place Of Supervision
by Christina Marfice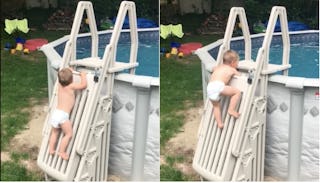 Image via Facebook/Keith Wyman
Think your pool is kid-proofed? You may want to give pool safety a second look
Summer is officially here. The days are long and hot. The kids are out of school. And few things are better than getting the whole family together for a pool day to beat the heat. But is your pool safety on point for your kids? Even if you think your pool is kid-friendly and locked down, you should probably take a closer look.
A viral Facebook video perfectly illustrates this. In the video, dad Keith Wyman shows his pool ladder, blocked by a locked cover. It's supposedly kid-proof. But the video shows it's anything but.
Yep. That is Wyman standing by as his two-year-old son muscles his way up that ladder. He effortlessly climbs over the safety cover, which supposedly prevents this exact situation from happening. Someone steps in and grabs the kiddo just as he reaches the top, where he could easily topple into the pool.
"So I'm posting this video after I found my 2 year old Cody trying to climb our pool ladder when it was closed and locked," Wyman wrote. "I just got it with the new pool."
Clearly, a safety feature like that ladder cover can give parents a sense of security that is ultimately false. Cody is proof of that.
According to the American Academy of Pediatrics, toddlers between one and four years most commonly drown in pools. The Academy offers a whole list of pool safety tips to help you and your kids this summer. But one of the most important takeaways is that kids shouldn't be able to reach a pool unsupervised at all. All pools, even temporary, inflatable and above-ground ones, should be surrounded on all sides by a fence. The Academy also recommends using door, window, gate and surface wave or underwater alarms. And of course, no safeguards can replace human supervision.
Wyman's video is an important and chilling reminder. Pool safety should be at the forefront of all our minds now that summer is here.
This article was originally published on