Where Was This Portable High Chair When My Kids Were Small?
by Christine Burke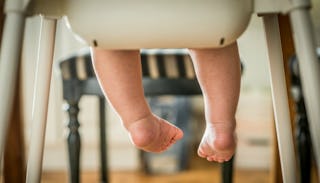 poplasen / iStock
I am seriously envious of my friends who have babies. Not because they are dealing with sleepless nights, breastfeeding, and diaper blowouts, mind you. I don't miss that. Rather, because moms today have access to products that make parenting so much easier than when my kids were babies 10 years ago. Seriously, strollers are less bulky, car seats are easier to install, and I would have loved to have a baby monitor with a video screen.
But what I really could have used is this portable baby high chair. I'm not kidding.
You guys, it's the greatest invention ever, and it almost makes me want to have another baby just so I can register for this little piece of joy in a canvas bag.
I cannot tell you the number of times I had my infant at a park or a friend's house and needed a place to plop her, so I could keep her contained while feeding her brother or letting her enjoy a snack. This high chair would have been the perfect solution. It's lightweight, comes with a carrying case that you can sling over your shoulder, and it would be worth every penny to not ever have to pack a high chair for vacations, camping, sporting events, and the like.
And because it's canvas, you can hose that sucker down right in your backyard because we all know babies are disgusting as hell.
Seriously, where was this high chair when I needed it most?
Whether you decided it was a good idea to take your toddler camping (it's not) or you are stuck at a soccer game during your infant's dinnertime, this chair makes motherhood tolerable. Plus, you'll be the envy of all your friends who are still dragging around those bulky, plastic, "portable" high chairs.
The ship might have sailed for me to get to use this nifty little invention, but every new mom I know is getting this as a baby shower gift!
This post contains affiliate links, which means we receive a small portion of the sale if you make a purchase using these links.
This article was originally published on