Anyone Can Follow This Easy, Healthy Pregnancy Meal Plan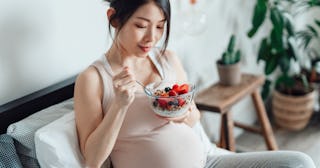 Oscar Wong/Getty Images
It's like clockwork. As soon as you tell someone you're expecting — and once they've had their initial reaction — you know it's coming. The utterly annoying comments about how you're now "eating for two," which are sometimes immediately followed by a remark about how you should really try to maintain a "healthy" weight during the pregnancy. First of all, if you're someone who even thinks about making comments like that: don't. Also, no one asked you. When we're pregnant, we have enough on our plate — including figuring out what we're going to put on our plate as morning sickness, food aversion, and a host of other pregnancy symptoms make their presence known.
Let us take the guesswork out of it for you. Instead of trying to come up with easy, healthy meals for your pregnancy, here are some suggestions for breakfast, lunch, dinner, and snacks that'll keep you going, even when you're too tired to remember your own name.
Breakfast Ideas
You're going to want to start your day with plenty of protein and other nutrients. Here are a few ways to make that happen:
Steak and egg burrito: It's filling and comes with a decent dose of protein and iron.
Steak breakfast hash: Leave out the carbs and fill your plate with non-potato veggies.
Whole wheat buttermilk pancakes: If you'd rather keep your carbs, thank you very much, this will give you healthy ones.
Egg salad: There's just something comforting about egg salad, and eggs pack a wallop of protein and amino acids that you and baby need.
Tomato spinach egg muffins: You can make big batches of these vegetarian breakfast items ahead of time.
Greek yogurt: In addition to being creamy and delightful, Greek yogurt is a great source of probiotics, B vitamins, calcium, phosphorus, and protein.
Cottage cheese: Like other low-fat dairy products, cottage cheese can serve as a healthy source of protein and dietary calcium.
Granola: Hearty, fiber-packed oats make granola a smart snack — as long as you steer clear of store-bought varieties chock full of sugar (no more than nine grams).
Porridge: Make like Goldilocks and get your porridge on! The fiber can help you avoid constipation and hemorrhoids.
Dried fruit: Since dried fruit contains the same nutrients as fresh fruit, it can be a fantastic source of energy. But it doesn't aid in digestion like fresh fruit and has a high sugar content, so eat it in moderation.
Tofu with eggs and spinach: If you're the type that likes tofu, you probably already know it's a healthy plant-based alternative to meat. Just take it easy, as soy can complicate certain conditions like hypothyroidism.
Triple berry smoothie: This one's filled with oodles of antioxidants, fiber, and vitamins, and you can throw in your favorite source of protein to round it out.
Fresh fruit smoothies: The American Pregnancy Association recommends fresh fruit smoothies as a means to "help maximize your nutrition" through nutrients like vitamin B6.
Banana walnut bread: Thanks to omega-3s and zinc, banana walnut bread makes for a nutritious (and tasty) pregnancy breakfast.
Ginger and carrot muffins: Anything with ginger is your friend!
Oats or chia seeds: Add some fiber excitement to your cereal or smoothies by adding these to your breakfast.
RELATED: 18 Of The Healthiest Breakfast Foods To Start Your Day Right
Lunch Ideas
These quick and healthy pregnancy lunch ideas are tasty enough that you're going to want to keep them in regular rotation even after the baby gets here:
Kale salad with dried fruit and toasted almonds: Iron, protein, and vitamins at your service!
Pear and cheese sandwich: We know how it sounds, but hear us out. And yes, it's healthy.
Grilled chicken with pumpkin seed pesto: Lean protein and a surprising flavor combo? Sign us up.
Black bean and sweet potato tacos with avocado: This vegetarian option is a good temporary stand-in for the tacos you ate before you got pregnant. They're also perfect if you're having a meat aversion at any point in your pregnancy.
RELATED: 20 Healthy Lunch Ideas The Whole Family Will Love, Even In Quarantine
Dinner Ideas
By the time you've made it through your day and gotten to dinner, you're probably too tired to do much of anything, let alone cook. But if you can throw some ingredients together (or, better yet, have a partner who'll do it for you), here are some ideas:
Salmon with lentils and leeks: The salmon has the healthy fats you're looking for, and the rest of the dish is full of fiber.
Mushroom quinoa risotto: A better option than the original rice version that's packed with flavors you'll love.
Chicken and tomato pasta with snow peas: Craving some pasta? This one is tasty and light. Plus, you can always swap in pasta made from chickpeas or other types of beans.
Beef and black-eyed bean casserole: Fiber, protein, and flavor to boot!
RELATED: These 11 Healthy Snacks For Kids Are Easy To Make And Sure To Be A Hit
Snack Ideas
You didn't think we'd leave out the snacks, did you? These are handy if you're hungry and need to grab something on the go, but want to keep it healthy:
After all, you want a snack that doesn't taste like cardboard and is good for you. You deserve that much! Well, it turns out it's very possible to have your cake and eat it too. Actually, don't eat too much cake — but there are yummy bites out there. Keep in mind, snacks should help you stay in line with healthy dietary measures for you and your baby.
Your snacks should be fueled with protein. This will help your unborn kiddo grow and boost your blood supply. You should also try to start each meal with a protein-charged snack. Here are a bunch of tasty bites that will keep you and your baby happy and healthy.
Small bowl of oatmeal topped with nuts and raisins
Mixture of pumpkin seeds and dried apricots
Low-fat frozen yogurt topped with fresh berries and chopped nuts
Cup of unsweetened applesauce with a handful of almonds
Wholegrain toast topped with mashed avocado, a slice of tomato, and a sprinkle of sea salt
Graham crackers and cream cheese (Trust us!)
Whole-wheat pretzels with mustard — honey, dijon, or regular — for dipping
Toasted whole wheat pita chips sprinkled with parmesan cheese
Pitted dates stuffed with any kind of nut butter — peanut, almond, cashew, etc.
Tropical fruit salad (Mix fresh kiwi, pineapple chunks, cubed mango, banana slices, and grapes, then add a squirt of lime juice, a drizzle of honey, and some coconut flakes.)
Carrot sticks dipped in peanut butter
Apples dipped in peanut butter
String cheese and a clementine or orange
Pear slices with almond butter
Pickles wrapped in swiss cheese
Cottage cheese mixed with fresh fruits or pineapple chunks
Edamame or dried fruit
Baked tortilla chips with guacamole or fresh salsa
Grapes and cheddar cheese cubes
Wholegrain toast with mashed avocado, tomato slices
Roasted chickpeas
Honey garlic cauliflower
Bacon avocado fries
Avocado chips (Cut your avocado slices and sprinkle, parmesan, lemon juice, garlic powder, and Italian seasoning on it. Then stick it in the oven for about 30 minutes at 325 degrees.)
Eggplant chips (You should follow the same steps as making avocado chips. Bon appétit!)
Foods Pregnant Women Should Avoid
Now that we know all the fresh and tasty meals pregnant women should eat, it's important to know which foods shouldn't be on the menu.
Large, predatory fish: Per the Mayo Clinic, pregnant women should avoid large, predatory fish like shark, swordfish, king mackerel, and tilefish to reduce exposure to mercury.
Uncooked fish and shellfish: Sorry, sushi lovers! Harmful bacteria and viruses can hide in raw fish and shellfish. Better safe (and sushi-less) than sorry.
Deli meat: Yes, it's true; deli meats can be contaminated with listeria, a potential risk factor for miscarriage. If you can't resist, make sure you reheat the meat until it's literally steaming hot.
Raw eggs: Hey, we can't imagine you're pulling a Rocky and swigging raw egg juice. However, you may be tempted to lick the batter while making baked goods, but that could expose you to harmful salmonella.
Unpasteurized milk and cheeses: These dairy items can be filled with toxic bacteria like Listeria, Salmonella, E. coli, and Campylobacter, which can have life-threatening effects on your baby.
This article was originally published on