The 7 Best Lotions For Dry Skin During Pregnancy, According To A Dermatologist
You have enough on your pregnant mind — dry/itchy skin shouldn't be one of them.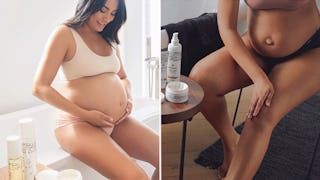 Amazon
We may receive a portion of sales if you purchase a product through a link in this article.
Pregnancy can come with many symptoms and discomforts, but luckily there are usually ways to alleviate them — like pregnancy pillows for better sleep or wrist bands for nausea. As hormones shift and skin stretches, skin can start to itch, too, so we consulted a dermatologist to help us round up the best lotions for dry skin during pregnancy. Because you deserve to be comfy.
The Expert
Anna H. Chacon, M.D. is a board-certified dermatologist with her own telemedicine practice and author originally from Miami, Florida. She completed medical school at Brown University. She has authored over a dozen peer-reviewed articles and book chapters, and has been published in JAAD, Archives of Dermatology, British Journal of Dermatology, Cosmetic Dermatology, and Cutis.
Why Does Your Skin Itch During Pregnancy?
If you're experiencing any itchiness, don't worry. During pregnancy, itching is frequent, says Dr. Chacon. "Typically, it's assumed that increased blood levels of specific compounds, such hormones, are what's to blame. Later, when your bump grows, the skin of your belly (abdomen) is stretched and this may also feel itchy." So don't worry about the state of your changing skin, but if you're uncomfortable, there are lotions that can help.
What Can You Use For Dry Skin During Pregnancy?
Treating dry skin when you're pregnant isn't that different than when you're not. "Moisturize your skin at least twice a day, once in the morning and once at night," advises Dr. Chacon. "Remember that your skin is dry because liquid evaporates too rapidly. Moisturizers not only help your skin maintain moisture, but they also act as a barrier between your skin and drying factors such as the air."
You may want to also double check ingredient lists for harsh chemicals or fragrances that may be harmful or irritating during pregnancy. Dr. Chacon says that you can and should wear sunscreen. Look for mineral sunscreen, which physically blocks the sun's rays rather than absorbing into your skin like a chemical sunscreen. For those with especially itchy skin, Dr. Chacon says that over-the-counter hydrocortisone is also safe to use throughout pregnancy. "When you apply a drug to your skin, substantially less of it enters your bloodstream than if you took it orally," she says.
Ahead, you'll find the best lotions for dry and itchy skin during pregnancy. Soothed, calm skin is on the horizon.