Elyse Myers Is Sharing Her Postpartum Essentials, & It's Honestly So Helpful
We love a non-gatekeeping queen!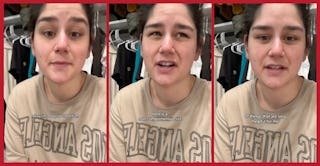 @elysemyers/TikTok
We may receive a portion of sales if you purchase a product through a link in this article.
By now, most of us know who Elyse Myers is thanks to her honesty, humor, and encouragement on TikTok. Whether you first found her from her viral story of 100 tacos or stumbled upon her advice to tell others to "go find less," to know her is to love her. She sings. She dances. And most importantly, she tells her truth — which often translates into Myers offering fantastic advice. In a new video, that advice comes in the form of sharing products she can't live without now that she has an infant at home (again).
In September, Myers gave birth to her second child, and oh boy, what a wild ride it's been for Myers, her husband, and all of their fans. Watching the lovable influencer tackle the same postpartum hell and ridiculous motherhood drama many of us have tackled has been hilarious and cathartic.
So, in true Myers fashion, she's sharing all sorts of insight along the way. Case in point? Her favorite postpartum products, from sanitation bags to adult diapers.
Elyse Myers' Postpartum Essentials
"OK. I'm nine days postpartum, and here is a noncomprehensive list of things that are very helpful for me postpartum," Myers begins. "And also with newborn life that I didn't buy the first time around that I wish I would have now that I'm using them the second time around."
Disposable Underwear
"Go straight to the adult diapers," Myers shares. "Don't even waste your time with the pads."
Peri Bottles
"The hospital is going to send you home with a peri bottle to help clean yourself when you go to the bathroom. If you can, just get one that's upside down," she shares. "Then it squirts up at you, so you're not doing gymnastics when you're going to the bathroom."
Dermoplast
"The hospital is also going to send you home with some Dermoplast pain, itch and burn relief spray and some Tucks witch hazel pads," Myers says. "But stock up on those and get more for when you're home, because you'll run out and you're gonna want them."
Pro tip: Wait until Target does one of those brilliant sales where you spend $25 on healthcare products and you get $5 back. Get a few cans of Dermaplast and a couple of packs of witch hazel pads. You'll get some money back and save yourself from so, so much pain.
Sanitizing Bags
"These sanitizing bags," Myers says, showing off her Medela quick clean micro steam bags. "You can reuse these 20 times!"
Myers shares that she exclusively pumps and then bottle feeds which means she has a ton of pump and bottle parts that need to be sanitized multiple times a day. Being able to rinse and then microwave them in a sanitizing bag frees her up for doing things like spending time with her firstborn or just, ya know, relaxing.
Butt Pillow
"Get yourself a butt pillow," Myers says emphatically. "I don't care if you use it for a day, a week, a year. It is absolutely worth it."
Haakaa Ladybug Milk Collector
Breastfeeding mamas have been using Haakaa products for a while now. They easily attach to whichever breast you're not currently pumping or nursing from in order to collect any letdown so that precious breastmilk doesn't go to waste. The Ladybug is a fairly new design and its shape is much more conducive to living life.
Breast Pump
Elyse actually recommends two breast pumps. First, she recommends a hospital-grade pump and, of course, reminds viewers that most insurances will pay for a breast pump with each pregnancy. She also recommends a portable pump.
"I didn't do this last time: A mobile pump," shares Myers. "I know that this is pricey and you don't have to buy it if you don't want to or don't need it. I have a toddler and I'm also exclusively pumping, and so having [the portable pump], I can be up and moving with my toddler. And it doesn't make me chained to my couch and he doesn't feel like he's missing out, I don't feel like I'm missing out. And it kinda gets the same output [as a traditional pump], so it's really great."
Soothing Pads for Your Nipples
Because breastfeeding, even pumping, hurts your poor nips!
Mini-Fridge
"We just got a little mini fridge, put it in our room, and in the middle of the night when we have extra milk or we need a bottle, we keep it in that mini fridge," says Myers. "So we're not having to go to the kitchen or go downstairs to get everything and to get all of our supplies. That has saved us a lot of trips. Also, it helps us go back to sleep when we are waking up in the middle of the night."