Gwyneth Paltrow Says She Almost Died During Emergency Childbirth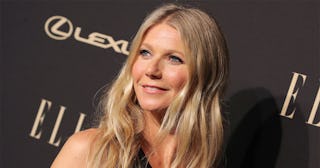 Chelsea Lauren/Shutterstock
Gwyneth Paltrow opened up about how she almost died during her emergency C-section
In a new interview on Armchair Expert, Gwyneth Paltrow opened up to co-hosts Dax Shepard and Monica Padman about her experiences having two cesarean sections with her teenage children, Apple and Moses. The Goop founder revealed that she "almost died" giving birth to Apple, now 17, sharing that she had an emergency C-section with her firstborn.
Paltrow and her then-husband, Chris Martin, have been open in the past about her "long and hard birth," which included 70 hours of labor. Now, she's sharing that both of her births were C-sections, telling Shepard and Padman, "My daughter was an emergency. It was crazy — we almost died. It was, like, not good."
Though she didn't elaborate any further on what sounds like a traumatic birth experience, the trio then began to connect the many pressures and judgments put on the shoulders of new moms — so much of which is exacerbated by social media and the ridiculous expectations that new parenthood remain picture-perfect at all times.
Talking about the experience of her body's appearance after childbirth, she added, "There's a big scar across your body, and you're like, 'Oh, wow, that didn't used to be there.' And it's not that it's bad, or you want to judge it, but you're just like, 'Oh, my God.'"
Paltrow also feels grateful that social media was still in its infancy when she had her babies, lamenting the pressure on new parents to look a particular way or do things a certain way that feels magnified by what we see on our feeds. "Thank God there wasn't Instagram when I had babies," she said, "because now it's like if I see someone, 'Oh I just gave birth two weeks ago and I have a completely washboard stomach,' and I'm like, 'wow that's not what I [looked like].' And like great, more power to the lady with the washboard [abs] but that is totally the exception."
She added, "now we're being fed all of these other images of what we're supposed to look like all the time — babies, no babies, whatever."
"I think women really need to be friends with each other, and all the judgment around how you have a baby, do you breastfeed, do you not, this that, are you going to work, are you not going to work — guess what, whatever it is, it's OK," she said. "I feel like we also have this weird thing around, it's past perfectionism, it's like 'I can do this gargantuan task that's superhuman' and why? For what?"
Paltrow's remarks are a gentle reminder that no matter how you're doing, you're doing great, moms.
This article was originally published on