Everything A Korean Postpartum Doula Does Is Blowing American Moms' Minds
Postpartum doulas in the U.S. are less common and considerably more costly.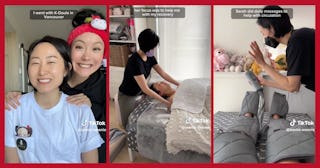 @jeenie.weenie/TikTok
It's no secret that American postpartum recovery looks wildly different than it does elsewhere in the world. From paid maternal leave to government-supplied new baby boxes, new families across the globe experience much better, gentler care than is often given to American moms. One new mom perfectly illustrated that point with a look inside life with a Korean postpartum service. From food prep to massages, TikToker @jeenie.weenie showed the kind of care she received at the hands of her angel of a doula, who covered just about everything so Mom could focus on recovery and bonding with her precious new babe.
Sure, similar services are available in the United States. However, they aren't as widely available or as affordable — which makes Jeenie's description of her care that much more mind-blowing to American moms.
Though Jeenie is based in Vancouver, Canada, she's Korean and found a Korean Postpartum Care Service to help her with literally everything while adjusting to life back home with a newborn. The service provided Jeenie, and babe Nari, with:
Massage
Blood-clot concerns
Blood pressure checks
Light therapy, including at the incision area
Breastfeeding coaching
Laundry, bottle sanitizing, and other cleaning
Baby care, including diapers
Meals
While new moms in the U.S. continue to fight tooth and nail for any bit of help after delivery, Korea seems to understand — and meet — the needs of new moms on a whole different level. Even their postpartum hospital stays are longer: Korean moms who experience uncomplicated vaginal births still stay at the hospital with extra help for three to five days. As a reminder, in the U.S., you would only stay 24-48 hours. Korean parents who give birth via C-section stay between seven and 10 days, unlike American hospitals that only care for C-sections for the first two to three days. After that? Most mamas and babies get sent home to fend for themselves.
In Korea, the postpartum experience looks much different.
It's likely based on the Korean practice of Sanhujori, which includes consuming healthy foods, doing exercise, and warming up the body. It's not uncommon for new moms to be practically sequestered in their homes to rest while family, neighbors, friends, and services take care of the essentials. Chinese moms have a similar custom called Zuo Yue Zi (Fresh Off The Boat, Season 5, Episode 1 shows a great example of that process).
Many modern Korean moms don't even return home directly from the hospital. Korea has more than 400 postpartum centers around the country where moms and babies go for 1-2 weeks after their hospital stay to receive additional care and help. These stays cost between 1.2 million won ($920) to 38 million won ($3,000) for a 14-day stay, depending on the area you live in.
American postpartum doulas exist, but the scope of their work and their pricing is a bit different. Postpartum doulas can cost anywhere from $25-50 an hour. Meaning that, even if your doula only stays for an 8-hour shift to help with daytime duties, you could spend nearly $3000 for a third of the help you'd receive at a care center in Korea. That's a financial burden many families just can't swallow postpartum, especially given that paid maternity leave is practically nonexistent in the U.S. In comparison, Korea gives a customary 90 days paid maternity leave.
American postpartum doulas do many of the same things the Korean postpartum doula offered to Jeenie, like light housework and meal prep, baby care coaching, and breastfeeding coaching. They don't, however, typically help with the medical needs of the parent who gave birth. If you want 24/7 help as you'd receive at a Korean postpartum care center, you should expect to also pay for a night nurse — a different profession entirely.
The lesson here? It's worth your time to see if there are any Korean postpartum care services near you. Either that... or consider a move to Korea for your next birth!