Mom Goes Viral After Bursting Into Tears During The Gender Reveal For Her Fourth Child
Now, she wants to normalize gender disappointment.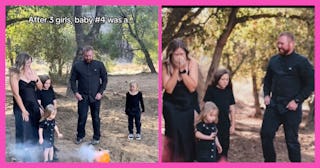 @dailydoseofmygrlgang / TikTok
Of course, a healthy, happy baby is all any parent could really hope for. There is no denying that. However, it's totally normal and okay to wish and hope for a particular gender when expecting — especially after having three girls previously.
One mom knows that feeling all too well, and after her fourth gender reveal disclosed that she was, in fact, having another girl.
In a video shared on TikTok with now millions of users, Kendra Evens showed her raw reaction after discovering that she was expecting her fourth daughter. Evens watched as smoke poured out from a Jack-O-Lantern slowly turning pink in the process, prompting her to start crying.
"We get a girl?" one of her daughters yells as Evens bends over, covering her face while crying. "What? Why do we have to get a girl?"
Someone off-camera shouts, "Girl gang all day," which is an homage to Evens' TikTok username @dailydoseofmygrlgang.
While her children continue to react to the news of a new baby sister, Evens sobs while her husband rubs her back.
"When I got pregnant with my fourth baby, I knew it was my last and after already having three amazing daughters, it was only natural that I, of course, wanted a boy," Evens told People.
"On top of that, all three of my pregnancies with my daughters were all the exact same, but with this last pregnancy everything was so different so in my head I swore it was a boy."
For those wondering why she bothered with recording a gender reveal if there was risk that she'd end up feeling some what let down by the result, she grappled with the same ideas.
"Going into the gender reveal, I was hesitant on doing anything because I didn't want to be disappointed in front of people if it wasn't a boy, but then I was reminded it was my last pregnancy and I didn't want to have any regrets," the mom of four continued.
Despite being prepared for the possible reveal of another baby girl, she admitted that she got caught up in the moment.
She explained, "All of my emotions immediately hit me, I couldn't help but cry. There was no control of my emotions at that point, especially being pregnant."
"And all of these thoughts came flooding, thoughts that I'll never have a son, never be able to experience what it's like to have a mother-son bond, to have a 'mama's boy,' or anything like that."
Now that her vulnerable reaction went viral, she wants others to feel okay about feeling gender disappointment and release the shame associated with the feeling.
"Gender disappointment is real, both for mom and/or dad," she said.
"Our feelings are valid as humans and gender disappointment should be more normalized. You don't know anyone's situation or feelings, and just because somebody is initially disappointed doesn't mean baby is not loved."
TikTok users supported Evens' reaction, sharing their own moments of grief over an undesired gender.
"Gender disappointment is so real and it doesn't mean we don't love our kids 💖," one user wrote.
"As a mom of 4 boys i feel you on the gender disappointment. i cried for days after we found out our last babe was another boy. your feelings are valid," another assured.
One user echoed, "No literally me after I found out I was having my 4th boy. It's okay to feel a way initially idc what no one says. I cried first day. Lol."
The OP replied, "Yes it's the initial shock!!! Like I obviously love all my daughters. The people that get it get it."