Pregnant Mom Sparks Debate For Hoping She Gives Birth To A "Healthy Baby"
Several TikTok users have jumped in to defend her, but others are calling her ableist.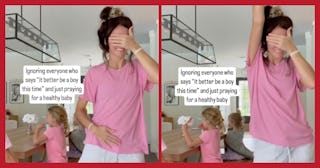 Kimberly Lecuyer / TikTok
Parents of multiple kids know that nagging person who asks questions about whether you're "hoping" for a boy or a girl while pregnant. Moms of boys are inundated with questions about how much they "hope" the baby is a girl while girl dads will hear things like, "This one has to be a boy!"
Even though these comments are usually meant in good faith, they aren't always appreciated. In fact, they're annoying.
One mom came under fire after saying that — despite all the annoying comments about the sex of the baby — she's just "praying for a healthy baby."
Kimberly Lecuyer — mom of three and fit pregnancy coach — posted a now-viral Instagram Reel, noting that she's choosing to ignore all the comments about "hoping" for a boy after having three girls.
"Girl mom of 3. Do I want a boy? Absolutely! Would [I] be mad if I had a 4th girl? Not at all," Lecuyer wrote in the caption of her Instagram reel. "Healthy Baby is the goal."
She also got real about gender disappointment and how it's okay to feel bummed when you find out your baby might not be the gender you were hoping for. Regardless, Lecuyer says that we just need to all be happy that there's a new life in the world.
"I've heard a lot of people talk about gender disappointment and I know the feeling… there seems to be so much pressure to have a boy (or maybe in your case, a girl) either way can we just start celebrating the new life about to come into the world?!!"
After her post went viral, one mom accused Lecuyer of being "ableist" for praying for a healthy child.
In a now-deleted comment (since Lecuyer turned off comments on the post after the discourse began), one user said, "Mom of an unhealthy kid here to say that those babies are equally valuable and worthy of love," one commenter wrote, to which Lecuyer responded, "sending you guys so much love."
"Not sure what you mean by sending her love when you just insulted her her child for not being healthy," another replied back to the thread.
Another said, "Whatever 'healthy' means? If it's not 'healthy,' then your prayers won't be answered? How is ableism different from being sex-selective?"
TikTok comedian Kevon Stage, aka @kevonstagetiktok, posted a reaction to the video, using the green screen TikTok effect to defend the mom.
Stage pointed out that Lecuyer never said that unhealthy children weren't worthy of love or that she wouldn't love an unhealthy child. She just said that she hoped her baby was healthy.
It's okay to hope for a healthy child!
"There is nothing you can say on the internet that somebody can't make negative. And there is also nothing you can say on the internet that somebody can then put words in your mouth and say something you did not say," Stage explained.
"You can't even wish for health anymore?!"
Stage's viral TikTok currently has 2.2 million views, with many agreeing with Stage's take on the entire situation.
"People are toooooo much....I pray for a healthy baby every day of my pregnancy🙏," someone wrote.
"I'm a mom w/ a disabled kid and I pray every baby born is healthy! If they're not, no worries! We can work on it and go from there with all love 🥰," one mom explained.
Instagram users also took to Lecuyer's comment section on the video (she turned comments back on!) and supported her wishes for a healthy child.
"As a disabled woman, these comments are mad wild. Wanting a happy healthy child isn't ableist? Hell, healthy doesn't just mean 'physically healthy', it can just mean she wants the child safe and sound and doesn't care for the gender. bffr and direct your attention to the actual OBVIOUS ableism running rampant on every social media app these days," one user wrote.
"As someone with a chronic illness who is also a mom. WHY WOULDN'T I want better for my child what! Of course I would love them. But you want the best for them," another said.
No one "prays" or "wishes" for an unhealthy child, physically or otherwise. However, if a child does turn out to have health issues, that does not make them less worthy of love or respect. One mom's wish for a healthy child does not negate any sort of love or value for a kid with health struggles.
Every parent knows that the universe ends up giving them the baby meant for them, "healthy" or otherwise, and that baby fits in seamlessly into their family in a way that makes you wonder, "How did we even do life before you came along?"
Despite this truth, there is still nothing inherently wrong or offensive about hoping your child does not have any sort of life-threatening or altering illness. In a perfect world, all babies would be healthy. The point these moms who are implying Lecuyer is ableist have a right to feel how they feel, it's clear that she was not diminishing the value of their children.