30 Names That Mean Sweet, Because Your Baby Is Like Honey In Human Form
So sweet, you could eat them with a spoon.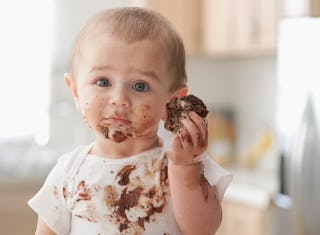 Your new baby has already made your life sweeter, so choosing a name that means sweet makes sense. What's more delicious than knowing your baby is named after something so endearing and yummy? People who are sweet are considered generous, charming, kind, gentle, and oh-so loving. What better way to honor your sweetie than giving them an ooey-gooey name that makes everyone want to be around them? And don't worry — these names aren't so sweet that they will give you a toothache, either. Names like Ambrosia and Madeleine are subtly sweet names for your baby girl, or you might like Baker or Lennan for your little boy.
So, keep reading for a list of delicious baby names that mean sweet for your little sweetheart. Beware, though: Your mouth might drool a little! Then again, you'll be dealing with copious amounts of baby drool soon, so it'll be good practice.
This article was originally published on