Prince George Cheering On His Dad's Favorite Soccer Team Is Pure Joy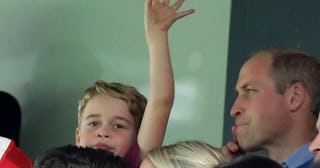 Mark Leech/Offside/Offside via Getty Images
The royal family spent their saturday at the stadium, but it was Prince George's facial expressions that stole the show at the Aston Villa soccer match
Prince George is born to be a royal. The kid has never met a camera he didn't love and constantly serves up ~lewks~ for his loyal subjects. Prince George is so captivating that comedian Gary Janetti created an entire Instagram account dedicated to George's sassy facial expressions. On Saturday, October 5, 2019, the Duke and Duchess of Cambridge took their two oldest kids to cheer on the Aston Villa at a soccer (erm, football) game, but all eyes were on six-year-old Prince George, squealing in the stands, and quite possibly having the best day of his very young life.
The U.K. soccer teams did their thing on the field (for those who care, it was Norwich City versus Aston Villa which means absolutely nothing to us Americans), but every time the news cameras turned around to capture the audience, little George stole the damn show.
Who knew soccer could be so fun? Do we need to start watching soccer? Can we all be as excited about soccer as Prince George is about soccer?
https://www.instagram.com/p/B3P1SszFyBF/
This whole thing is even cuter because Prince Williams loves this particular team (Aston Villa), and to be quite honest, William's obsessed with them, so it was a real father-son bonding moment for the duo.
To experience unadulterated enthusiasm through a child's eyes is really just, the best. That being said, what is happening here? Is Prince George trying to get a concession guy to bring him a soft pretzel? Is he flagging Meghan Markle? "Hey girl, we're over here."
Even Kensington Palace, which usually only shares "official portraits" and other vaguely staged photo ops shared a video from the game, which is proof that Prince George is literally changing the culture of the monarchy. Wow, an icon.
https://www.instagram.com/p/B3P_hXWl6fV/
Prince George is clearly an avid soccer fan and we know he likes ballet too, as the news, unfortunately, went viral when Good Morning America host Lara Spencer had the poor taste to insult the young royal's taste in extracurriculars.
Four years ago, William told BBC News that he hoped his son would grow up to be an Aston Villa fan, telling the news outlet, "The responsible thing would be to let him make his own mind up, because I think I might be quite biased. He can sport whoever he wants, but if he sports Villa, that would be fantastic." William joked that he'll probably end up jinxing it and George will hate his favorite soccer team.
Well…William, we think it's safe to say that your kid "sports Villa." You're good.
This article was originally published on