The Royal Wedding Invites Are Out, So We'll Just Patiently Wait For Ours To Arrive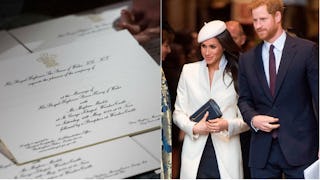 Image via Mark Cuthbert/Getty/Twitter
The Royal wedding is just a couple months away, so get your day dress ready, whatever that is
If you're wondering where your formal invite to Prince Harry and Meghan Markle's royal wedding is, Kensington Palace confirmed today that it's, um, in the mail. The official Kensington Palace Twitter account revealed this morning that 600 invites have been posted, and they even added a picture of the cards, in case yours gets lost in transit somehow.
The invitations read, in swirling calligraphy: "His Royal Highness The Prince of Wales KG KT requests the pleasure of the company of [blank] at the marriage of His Royal Highness Prince Henry of Wales with Ms Meghan Markle at St George's Chapel, Windsor Castle on Saturday 19th May, 2018 at 12 Noon followed by a reception at Windsor Castle."
The invite adds a dress code: "Dress: Uniform. Morning coat or lounge suit, day dress with hat." This implies that Prince Harry, a veteran and Captain General of Royal Marines will likely wear military duds on the big day, while we will feverishly Google "day dress," only to find that it vaguely means, "a dress appropriate for wear during the day." Maybe we'll just wear a lounge suit instead, whatever that is.
The invitations themselves look, unsurprisingly, very traditional, and Kensington Palace's information on how each was made imply that the couple isn't cutting corners on their budget to splurge on a better honeymoon. Each invite was made by Barnard & Westwood, a 100 percent employee-owned printer and bookbinder based in London. The company has been making royal invitation for the Queen and Prince of Wales since 1985, and Managing Director Austen Kopley said he couldn't be happier with the shop's latest task.
"The wedding of Prince Harry and Ms. Meghan Markle will be a truly special occasion and we are thrilled to be able to create equally special invitations for their guests," he told The Telegraph. "We are incredibly honoured to continue our longstanding work for The Royal Family, and to be involved in such an important moment for the couple and their family and friends."
Each of the invites were hand-printed through die stamping on a machine from the 1930s nicknamed Maude. The details–which included burnishing and gilding–were completed by a woman named Lottie Small, who recently finished her printing apprenticeship. Atop each invite is a golden Three Feather Badge of The Prince of Wales, because even though the cards are mostly plain and proper, they have to be a bit fancy, too. The invitations also used American ink and English paper, which is either a cute nod to the couple's across-the-pond romance, or just what the print shop had lying around.
All 600 guests are invited to the ceremony at St George's Chapel and then to a fancy lunch at Windsor Castle hosted by the Queen (do not spill your lunch on your day dress, it's your only one). From there, 200 of the more intimate guests (not sure if we made the cut there, either) will move on the Frogmore House for a small reception hosted by The Prince of Wales. The rest of England is expected to move on to watching the Football Association Cup Final, which kicks off at 5:30 p.m.–and don't worry, everyone can watch that on television, no hand-burnished, Maude-manufactured invitation required.