Prince Philip, The Duke Of Edinburgh, Has Died At Age 99
by Christina Marfice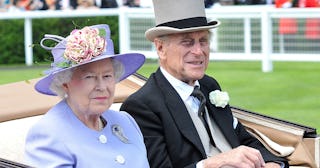 Stuart Wilson/Getty
Prince Philip, who married the future Queen in 1947, was the longest-serving royal consort in history
Prince Philip, the Duke of Edinburgh, husband of Queen Elizabeth II, father of Prince Charles, and grandfather of Prince William and Prince Harry, has died. He was 99 years old, and an announcement from Buckingham Palace said he passed away peacefully at home at Windsor Castle.
Philip had struggled with his health in the last few years, most recently in February when he was hospitalized with an unspecified heart condition, and later transferred to another hospital. In May 2017, when he was 95, he officially retired from public life and made his final solo appearance shortly after.
Philip was known as "the first gentleman in the land" and was the longest-serving royal consort in history. He was by Queen Elizabeth's side as they brought the British Monarchy into the 21st century, sometimes through intense periods of controversy. His death comes as the palace is facing family turmoil once again, just weeks after Prince Harry and Meghan Markle aired an explosive interview with Oprah that detailed how they had fled their royal roles amid fears for Meg's mental health and their children's safety. They claimed that unnamed senior royal officials had been openly racist about Archie while Meghan was pregnant, voicing worries about his skin color after his birth, and that she and Archie were refused a security detail when the Palace declined to make the new baby a prince.
No details have yet been released about funeral services for Philip, but world leaders have already begun to make tributes in his honor. British Prime Minister Boris Johnson led tributes with a somberly read statement.
"We are a kingdom united in grief and gratitude," Johnson said. The leader of the opposition Labour Party, Keir Starmer, made a statement of his own saying that Britain has "lost an extraordinary public servant."
"Prince Philip dedicated his life to our country — from a distinguished career in the Royal Navy during the Second World War to his decades of service as the Duke of Edinburgh," Starmer added. "However, he will be remembered most of all for his extraordinary commitment and devotion to the queen."
No senior members of the Royal Family, including the Queen, Prince Charles, or princes William and Harry, have yet made public statements. It's unclear if they will, as any further announcements about Philip's cause of death or funeral services are likely to come from official channels at Buckingham Palace. Queen Elizabeth has now entered an 8-day period of mourning where she will not carry out any royal duties and the royal household will observe a 30-day period with guardsmen wearing black armbands in observance of the Duke's passing.